Shangri-la
26 June
T here's a long and winding drive to Lijiang from Dali, during which I practice my You Peng Method of preventing motion sickness — lie flat on back across two seats, with head near aisle and feet braced on window, insert earphones and blast iPod. I have (voluntarily, at least, apart from performances) listened to nothing but SYP since I arrived in China, which suits me just fine. I guess I have not mentioned the public bathrooms along the road: I have been in worse ones at summer street fairs in the U.S., although on occasion we "sing in the woods" rather than braving some of the official facilities. Evidently having to squat keeps the Chinese in better shape; at least I never noticed a handicapped toilet stall.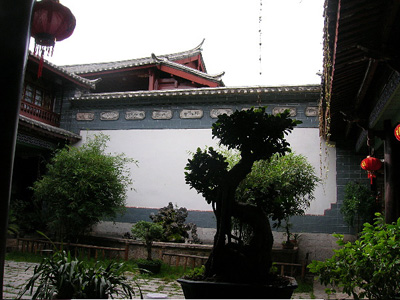 We arrive in Lijiang late afternoon, staying at an inn in Old Town which is even more charming than the one in Dali, plus more functional. Our rooms face a central courtyard, decorated with red lanterns, and have padlocks on the doors. We can throw open our latched wooden windows, lean out and chat across the cobblestones like ancient period prostitutes.
The altitude here is 8,000 feet. Lijiang was made a UNESCO World Heritage Site in 1999, after the city was devastated in an earthquake in 1996 and rebuilt. Despite this somewhat fabricated construction, Dayan (the Old Town) is totally charming. It's small enough to wander around on foot (no vehicles allowed), a labyrinth of shops, restaurants, inns, workshops, and local homes. The "new town" borders the old section, and has more mundane shopping facilities and larger internet cafes.
Lijiang is the home of the Naxi (Nakhi) people, who developed and still use — mostly for religious and ceremonial purposes — the only extant pictographic language. The city is in a valley dominated by Yulong Xueshan (Jade Dragon Snow Mountain), 18,355 feet and usually cloud-covered.
27 June
After breakfast, which is served in a bar and is pretty dreadful, we walk around Black Dragon Pool, visit the Dongba Research Institute where an inscrutable wise man in a fabulously feathered hat writes out the script on parchment, from a selection of proverby sayings (some rather amusing). The pictographs have also found their way onto t-shirts and other tourist memorabilia, with the "dancing man" figure the most popular. They really are very cool images, as is the colorful Naxi lunar calendar with its central frog (symbol of fertility) motif.
The village we visit here is the former residence of Dr. Joseph Rock, eccentric Austrian-American botanist who lived in Lijiang from 1929-1949, did research on the area, and wrote for National Geographic. There are lots of photos and artifacts on display as well as some of Rock's personal furnishings (part of his eccentricities).
Then we visit the very imposing Mu Mansion, home of Lijiang's ruling family until 1723, destroyed and rebuilt, a mini-replica of the Forbidden Palace that dominates Dayan. Up the hill is a Daoist monastery, where the monks are more entertaining than reverent, spitting loudly and with panache.
Next there is a slight revolt as we feel that Bob has overbooked us in his enthusiasm for the city, and a beer break. Before dinner I head into New Town to photograph the Mao statue and do some suyoupenging.
28 June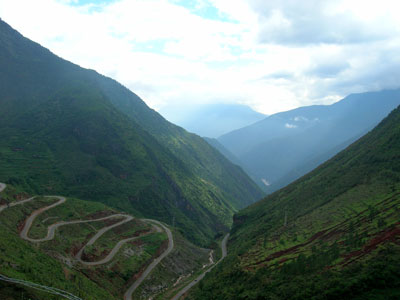 We pick up our Mosuo guide at the bus — a lovely young woman in beautiful native garb who does not speak English but who sings to us several times during the trip — and head to Lugu Lake. This was quite a trek, crossing five mountains on switchback roads. Our first view of the Yangzi River is pretty awesome; eventually we cross it on the "new" bridge (we'll walk across the older plank bridge on the return trip). Lugu Lake, at 8800 feet, is beautiful from above, and reminds more than just me of Craker Lake in Oregon (bigger, though). We check into what is deemed the worst hotel on the trip (Ruheng Zhuang-yuan Hotel) — although Mao Mao assures us that it's better than the one they booked for previous groups.
Lugu Lake Mosuo people have a matriarchal society, where the women run the households and businesses, and the men farm (and evidently also just hang out a lot). They are largely Buddhist with strong Tibetan roots in culture and geneology. Ethnologists have long been fascinated by the Mosuo "walking marriage" in which a man visits his lover only at night. Any children are raised by their mother's extended family, including maternal uncles. (So a man would help raise his sisters' children, but not his own.) We (esp. the women) can see some very positive aspects of this arrangement. Plus, the men here are gorgeous.
29 June
Next morning is the highlight of our Lugo Lake visit — we take dugout canoes to visit two of the islands. Few visitors go to the smaller island, former site of the chief's summer home (destroyed — I think — by Red Guards during their occupation during the Cultural Revolution). The structure has been rebuilt as a Daoist temple and is quite a lovely site.
Then to the Buddhist temple island, where we meet the brother of the matriarch of the household we had visited, also on retreat. This is a large complex with housing for both monks and lay visitors.
Our group divides into two canoes, each holding around 8 people. The canoe I'm in has two very young and very cute oarsmen. We sing every song we can remember during the trip back to shore (having been sung to, during our visit, by our guide, the hotel staff, and the evening entertainers). I think our boatsmen are amused.
We visit a home in the afternoon — the grandmother (matriarch of the family) has gone to the Buddhist temple on one of the lake's islands on retreat, but has left a photo which is displayed by her daughter who entertains us. Again, there is some pretty potent home brew. The architecture of Mosuo houses is quite complex, with a central hearth (the embers are kept burning always) and a shrine behind. As we have often seen, the living area also houses a TV set showing a period drama. And there's a poster of a female Chinese pop star (one I don't recognize) on the door to the granddaughter's room.
Dinner at the hotel, with more liquor added to the usual beer entree. The young women attendants (they aren't as much waitresses as drink purveyers) get pretty aggressive with toasts and are very flirty with Mao Mao. (We also suspect that our driver, Mr. Peng, is infatuated with our guide.) Every evening there is a bonfire for the tourists with a large number of very attractive young people dancing and singing. Spectators are encouraged to join, and a bunch of Chinese tourists also staying at our hotel become fairly obnoxious. We stay for a while but it's only one song and an endless spiral dance, so we head back home before the event ends.
30 June
This morning I opted out of breakfast in the hopes of finding decent coffee. Evidently there is a decent coffee shop in Lijiang but I never manage to connect with the people who know where it is. The breakfast eaters got to choose their entrees from the menu for today, from a selection of Western offerings. One was French toast, which got Amihan very excited and even tempted me, but I decided that I would likely be disappointed. Turns out the bar's version of French toast is toasted wheat bread, so I made the right choice.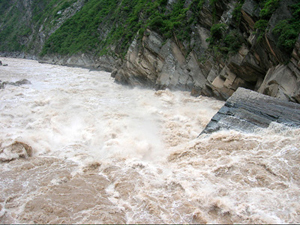 Back to the bus. A long trip, via the First Bend of the Yangzi River, and a stop to hike down the trail to Tiger Leaping Gorge. This is one of the world's deepest canyons, with peaks averaging 13,000 feet on either side. Jingsha Jiang (River of Golden Sands) is mighty impressive from the lookout platforms — its rapids are considered unnavigable and the water churns and roars. Supposedly some hunters saw a tiger leap across the river at this narrow point, hence the name. This is the only cliff trail I've ever been on lined with vendors selling silver jewellry and textiles. Oh, and dozens of men, top and bottom, offering transport via sedan chair. Despite the climb, the altitude, and the heat, I suspect riding in one of those things would be a less comfortable way to travel.
By late afternoon we reach Zhongdian, the high point, in the geographical sense, of our journey. Bob's gotten a bit behind in lectures so we have one after dinner and another scheduled for next morning after breakfast. Most of us spend the evening madly scribbling in our field journals, which are due tomorrow at the final exam. Yikes!
1 July
Exploring Zhongdian, after lecture. This is a very odd place. It's on a large plateau, at 11,000+ feet, surrounded by the Hengduan Range of the eastern Himalaya Mountains. But generally you only see vague peaky shapes in the distance, so it does not feel like mountains are enclosing the city. Zhongdian itself is splayed out and ramshackle. There is a lot of construction going on, much of it in concrete. The Old Town has pretensions of becoming a new Lijiang — most of the area is shops and restaurants under construction, replacing the older homes that formerly gave the area some charm (so say Bob and Mao Mao). I get bored (only one CD shop with pitiful offerings) and wander off looking for interesting billboards. I spy Maggie Cheung and add her to my collection.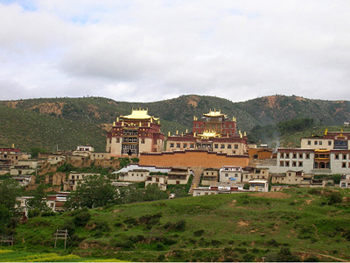 Our next stop is Songzanlin Tibetan monastery, the largest in Yunnan and very imposing with its long stairways and gold roofs. Built by the 5th Dalai Lama 400 years ago, destroyed during the Cultural Revolution, and re-opened in 1981, it houses 600 monks. We peek into the main hall during class: the young monklets are just like all other 10-12 year old boys, punching each other and racing out at recess.
There are some wonderful views of Zhongdian from the monastery (and equally impressive views of the monastery from below). The local Living Buddha is in and we are permitted to visit and be blessed. After this, lunch, more shopping, a village visit, and a little time to study before dinner. I don't much like Zhongdian; it's sprawling and blocky and unfinished. Even our hotel (Pacific Rim) has an unfinished feel to it. Plus the breakfasts are uninspiring and there are lots of Japanese tourists, who always seem to separate by sex (wives eat earlier, followed by their husbands who I suspect had been drinking the night before, as they are still staggering a bit).
Zhongdian officially changed its name to Shangri-la (or Xianggelila) in 2002. It's touted as the actual location of the time-freed paradise of James Hilton's novel Lost Horizons. Tourism is being developed, and there is a pretty serious airport with direct flights from Beijing etc. (although flying direct from sea level may have some serious drawbacks. We, on the other hand, have been acclimating ourselves for a week and felt no ill effects).
An alternate thesis, and the one I support, is that Lijiang is the Shangri-la location. This is based on descriptions in the book that match local landmarks. Also, Hilton was supposedly familiar with Rock's work, which may have inspired him in his choice of location. Finally, Lijiang is a very charming place, well-planned and maintained, and I figure it better deserves the title. Now I have to reread the book....
After dinner we have our final exam: multiple choice and true/false. I finish first and am sent to the bar to reserve space. Over tea and beer we each give a short report on our field projects, and we make Bob tell us the answers to the final. It's likely that everyone has passed. The sesson is both fun and enlightening. Although many of us have talked about our projects during the trip, there is a lot of depth into everybody's observations and comments on the cultures we have been exploring.
2 July
To the airport, for our flight to Shanghai, with a layover in Kunming. Back in our Shanghai hotel, we retrieve our stored luggage (all my syping treasures—except for the ones I could not bear to leave behind, of course). Except for me, everyone has been bitching about the food in Shanghai, so Mao Mao works some of his magic and finds us a fabulous local place for our farewell dinner. Wine PLUS beer, and I donate my remaining bottle from California as a thank you gift from the group to our fabulous national guide.
3 July
As a final treat (final for those going home) we take the Maglev ("magnetic levitation") train to Pudong airport. This is very cool: at 430 kmh, the carriages hover above the tracks through the use of giant magnets. Once at the airport, Sally and I hug everybody who's heading home to San Francisco, and wheel our bags through domestic check in (where the very laid-back counter staff do not charge us for our overweight luggage).
The Great Wall
China 2006 Index