The Great Wall
26 June
Beijing is very large, very hazy, and not as hot as threatened (I don't think the temperature reached 100 degrees at all during our visit). Our hotel, the Novotel Peace Hotel, is close to Wangfujing (Beijing's premiere shopping street) and the Forbidden City. In fact, I can see glimpses of the red palace roofs from my window through the haze. After settling in, Sally and I meet in the lobby to stroll around. We make it all the way to Tiananmen, with its famed Mao portrait and massive museum buildings. It's a big square. We're approached by an art student named Byron who invites us to see an exhibit that's supposed to be going to Berkeley in August. This turns out to be a common ploy in the area to sell art stuff, but Byron does not realize that Sally and I have been honed by the terrible old women of Dali markets. His fellow students seem amused as his marketing attempts get more desperate and we remain unmoved. Still in possession of our yuan and in search of food, we decide to drop into the Beijing Raffles Hotel for a drink. It's quite posh and, with a choice of two lobby bars, we opt for the Writers' Bar with its comfy leather couches, and order vodka tonics. Philip, the bar manager, is quite gracious, and tells us that the hotel has only been open a few days (which explains why the drinks took so long to arrive). We find a promising restaurant down an alley and have Peking duck for dinner.
Tany phones that evening and asks if I would like to see yingying. Arrangements are sketchy because I'm not sure when we'll get back from tomorrow's trip, but it would be fun. I do a little channel surfing (nighttime dramas on Chinese TV all seem to have 20th century settings, heavy on Republican and WWII periods).
4 July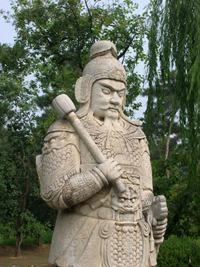 Our full day excursion starts with the Ming Tombs, starting at the Spirit Way (aka the Avenue of Ghosts) with its long avenue of paired statues. Real and mythical animals as well as military and civil dignitaries, these are very lifelike and charming. The thirteen tombs of Ming emperors are spread over 50 miles, in a valley to the south of the Tianshou Mountains, selected for its feng shui alignment. From the Spirit Way we drive to Chang Ling, the first and most impressive tomb, with excavated artifacts displayed in various buildings. Lunch at a nearby jade factory (these are unavoidable stops for tourists, but there are some beautiful, pricey pieces; the food is terrible).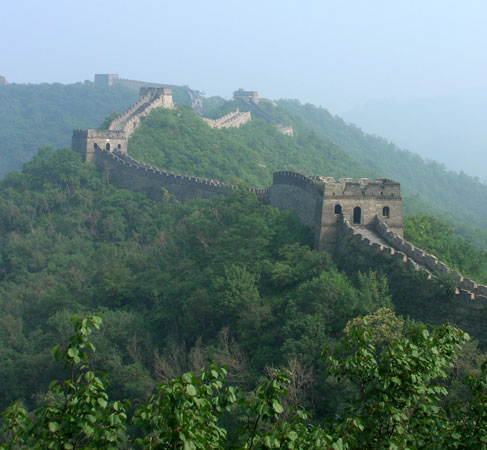 After lunch, Mr. Xie drives us to Mutianyu. Grace, our guide, is very eager and likes to give us little history and site lectures on our little tours, but even she dozes a bit during the long drive. There's a very dreamlike quality to this journey. The haze obscures the mountains until we are upon them — surprisingly steep and high for being so close to Beijing. There is even a little misty rain. Finally, we arrive at the parking area (yes, complete with stalls of tacky souvenirs), and get tickets for the cable car. Fifty-five miles northeast of the capital, Mutianyu was a barrier wall shielding passes to the north toward Zhangjiakou. It's partially restored, but not as crowded as this section is farther from Beijing.
With my first glimpses of Wan Li Chang Cheng ["Thousand Li Great Wall"], as we climb to the top of the ridge, I am stunned for the second time on this trip. Pictures and descriptions are inadequate to imagine the sheer majesty of this place, and the views, even in the haze, are spectacular. There are very few people here, and we hike along the wall for a few hours, taking it all in. Sally states that this is the high point of her China visit, and thanks me for choosing Mutianyu.
OK, at one point I do have to curl up in the window of a watchtower, pull out my iPod, and listen to the opening theme from YMHJ while gazing at the long stretch of ridge. And I look for (and photograph) locations approximating the final, devastating scenes from the series when Yang Si Lang finally makes his way home from exile, only to have his life end on the Great Wall's stones.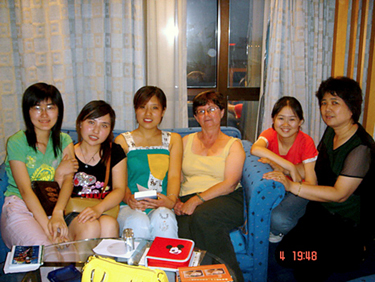 Grace initially planned on dumplings and foot massages for our evening's closure, but we are tired, and when I walk into the hotel lobby, a half-dozen friends are waiting to greet me. Yingying has brought several young college students (evidently also SYP fans) to practice their English, and we all head up to my room where they pull out photo books of our Shanghai adventure three weeks before. More photos are taken, yiungying gives me a case of VCDs for Tany and an assortment of photos. We all laugh a lot, and I have to recite the only Mandarin phrase my friends know I can recite ("wo ai su you peng"), to cheers all around.
I love yingying — she is warm and generous and welcomed me as a sister. She also forgets that I don't speak Mandarin; rather she looks at me intently and rattles off a lengthy passage as if willing the words to directly enter my brain. Inevitably, I have to give up and show her a totally blank look. Then we both break up laughing. I make an attempt at suggesting dinner, but they all tell me I need to rest, and they're right. I eat part of a room service order and collapse.
5 July
The Summer Palace
Sally and I have firmly convinced Grace that 9:30 am is a better start time than 8 am, so we have a more leisurely morning. We had originally booked a trip to the Temple of Heaven but decided that we had visited enough of these, and switched to a half-day visit to the Summer Palace. Good decision! It's a beautiful day (even some blue sky), and there's even a nice breeze. The palace grounds are surprisingly extensive, and the lake is huge. We walk around the buildings, check out the famous marble boat, and the shops along Suzhou Street where the emperor and his court could pretend to shop (and to be robbed by pickpockets). I love the building names: Hall of Jade Ripples, Gate of Dispelling Clouds, Garden of Harmonious Interest, Temple of Gratitude for a Long Life. We take one of the "dragon boats" to Naihudao (Southern Lake Island), cross 17 Arches Bridge, and walk to the exit.
| | |
| --- | --- |
| | |
After lunch I have a swim in the hotel pool, and watch a few more episodes of YTTLJ before dinner, which is dumplings in a small restaurant on Snack Street. We share a table with a pair of Australian women. The daughter has just finished a six month teaching stint in China, and her mother has come to visit before she returns home to Adelaide. They are surprised that I have actually been to Adelaide.
6 July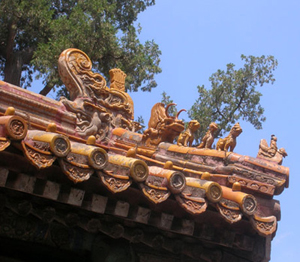 Our last day in Beijing, and a visit to the Forbidden City. Like the newer parts of the city, it is very much under construction (or, rather here, renovation), but we are able to wander through several of the buildings and see numerous displays of treasures. The heat and relative crowds (although really not bad) make us desultory, so we take an aimless route, seeking out little parks and enjoying whichever display into which we poke our heads (usually trying to avoid the larger groups).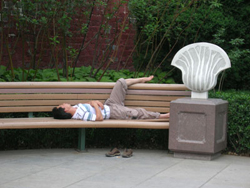 Our thought for our last evening is to explore a different area of the city and visit Liulichang, but our taxi driver has obviously chosen the wrong profession and we crawl through traffic. We can't figure out exactly where he did let us out, but wander through a bustling hutong before ending back at Tiananmen Square. It's still hot in Beijing.
Many fond and sad goodbyes to Grace at the airport; she has been an excellent guide and companion. I've been developing a cold the last few days, and since Sally and I are not sitting together on the plane, I spend the flight trying to get some sleep and playing music. Su You Peng's voice accompanies me away from China, as it had serenaded me into the country almost a month before. I definitely plan to return.
Still here? Want more?
Return to China 2006 Index