The Wayback Machine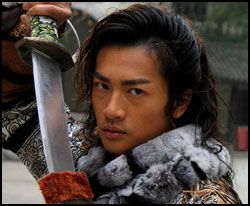 Actually not so way back, just to the previous Spring when KTSF, a San Francisco foreign language TV station, decided to run a new CCTV drama series, Warriors of the Yang Clan [Yang Men Hu Jiang], with English subtitles. (Although KTSF regularly runs Chinese drama series, I believe this was the first time they had done so with English subs.) I missed several episodes, I was working some convention downtown with totally brutal hours, my reception was so terrible I had to sit in front of the TV and constantly move the antenna around — and by the end of the 33 episodes I found myself completely captivated by the lead actor in this series, Alec Su, who plays Yang Si Lang, fourth son of the famous family of Song dynasty generals. Drop dead gorgeous, charisma that could conquer whole civilizations if fully concentrated, a singing voice from the heavens, and those eyes ....!
This series was by no means my first foray into Chinese cinema ... that was way back in 1973. Grad school, Honolulu. Being shown around by a friend of a friend, one of our more local excursions was to downtown Chinatown, to watch Shaw Studios' swordplay movies. These have now finally been released on DVD, and have also had theatrical screenings in the US (so check 'em out!), but when I saw Have Sword Will Travel, it was new. Bloody, melodramatic, violent, romantic, astoundingly creative in its acrobatic aesthetics: what a strange and wonderful new world.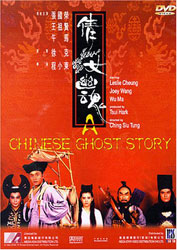 My first taste of HK martial arts movies was memorable but brief; then I moved to San Francisco in the midst of the genre's dizziest heights. A Chinese Ghost Story brought it all back with a rush, and through sporadic screenings in SF neighborhood and art house theatres, I got hooked again.
Voices
Return to China 2006 Index