Wagons Roll!
I've been on several group tours now, with few complaints about my travel companions (although I admit to having collected a few minor horror stories that make good cocktail party conversation). I have stayed in casual touch with quite a few tour fellows, and I've made several very good friends. That said, this Rick Steves Turkey tour group was by far the most congenial, compatible, and downright fun bunch of people I've spent time with in foreign climes. Our merry band of twenty (a few people cancelled, presumably wary of their safety with the current political situation in the area) spanned several decades in age and a spectrum of background, occupation, and home base location. What we shared was a respect for and curiosity about other cultures, a willingness to embrace new experiences, an appreciation for good food (and drink!), and an openness to making new friends.
Among the things that Rick Steves tour company does well is selecting great tour guides, and Mert is certainly among the best. With an energetic "Wagons roll!" exhorting us onward to each new adventure, he connected with each tour member individually (in fact, he gave many of us new identities and titles) and helped us form a cohesive team from the beginning of our itinerary. Mert's teaching experience (he has a degree in archeology from Boğaziçi University) was particularly impressive during our museum and historic site visits, as his enthusiasm for sharing information about Turkish history, culture, religion and politics fueled our own interests. His connections everywhere we travelled — from lunch with four generations of local women in their home to an informative meeting with a village Imam who frankly answered all of our questions about Islamic culture and politics — enriched our visit immensely.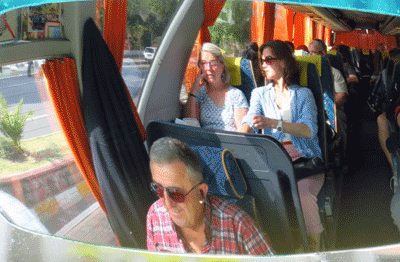 We also had an excellent driver, Rafat, who — as we noticed with other tour bus drivers in Turkey — kept his vehicle meticulously clean, inside and out. On breaks he could always be found relaxing with a glass of tea and his backgammon set. I didn't get a chance to play against him but I suspect he was expert. I also suspect he derived much amusement from the Americans he encountered on the job: fond amusement, though, as he kept tour group photos taped inside the cab (and, according to Mert, was mighty upset when another driver who had used his bus removed them).
Our tour itinerary was pretty busy, with a few days of strenuous walking (in Istanbul, Antalya and Ephesus), with a couple of long bus trips between later destinations. Mert used some of the bus time to give some lively talks on whatever topic segued into the next stop: Central Anatolian geography, Islamic politics, Greek architecture, drinking raki. The rest of us fit in some chats with our buddies, as we were slated to introduce each other during a group dinner evening at the Old Greek House in Cappadocia. The witty — and sometimes bordering on outrageous — intro summaries broke any remaining ice into little piles of slush. (Copious amounts of local wine may have helped a bit.) The next night we were treated to an impromptu concert and Mert showed us how to dance, Turkish style. Hilarity ensued.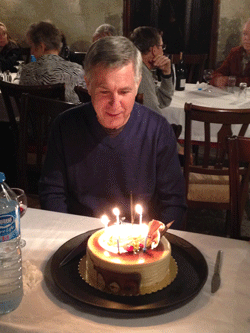 After that, we had even more reasons to hang out together: sharing meals, comparing shopping bargains, enjoying strolls in the parks, museum excursions, and hot air balloon rides. Rick Steves Tours sneakily gives their guides information on any member birthdays during the tours, so Mert was prepared, and arranged to have cakes for Jim (aka The Governor, aka Mister Rogers, aka Rick Himself... don't ask!) and Ginger. The sparklers were a lovely festive touch; hard to blow out, though. We are still sharing our trip photos and exchanging holiday wishes, and looking forward to the January tour alumni reunion (and maybe even a future trip together).
We're a social group (and we like to eat):
Next: Cultural Palettes
Return to Turkey 2014 Index