Genuine Authentic Treasures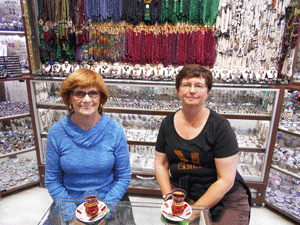 The Istanbul Grand Bazaar: a kaleidoscope warren of trash and treasure, mesmerizing in its dazzling colors and terrifying in the crush of tourists hoping for an undiscovered museum piece, or at least a nice souvenir holiday gift for a favorite auntie. I wasn't looking for anything in particular (especially at the beginning of my trip), but I'm always open to a reasonably priced set of earrings, my usual trip memento of choice. And I was shopping with other ladies of discernment in our tour group: we didn't know each other that well yet, but a shared attraction to bright shiny objects was not unexpected. Susie had an interest in finding a ring with an orange stone (Giants colors, don't ya know), and we found a shop with some older silver pieces, just not quite the right one. No worries! The young proprietor had a second shop with a better selection, just a labyrinth away. (He also sported a hairdo of architectural wonder.) Susie found her ring, we were served tea while it was resized, and we headed in what we hoped was the direction of the exit where the bus was parked. On the way, some earrings caught my eye, and I scored a set with tiny dangling orange-and-black evil eye amulets: a perfect charm for my baseball team's post season. Huzzah! (Akemi got me a discount by speaking Japanese with the shopkeeper, and later, while checking out similar earrings in Antalya for Debbie, the guy in that shop refused to believe what I paid for mine.)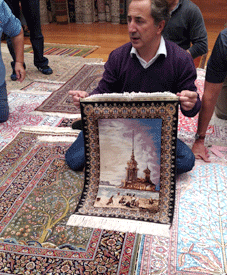 During our stay in the Cappadocia region, we visited a rug and a pottery center. I should note that Rick Steves tours are not commercially oriented, which is one of their best qualities: tips are forbidden and the guides are well paid so don't need to depend on shop commissions, and visits to local goods factories are not part of the itinerary unless they also have cultural value. We were shown how rugs were dyed, how silk was extracted and spun, and the techniques used by the center's weavers. And of course we were shown dozens of exquisite rugs, and purchases were made. (I will say no more about carpet addiction, except that I did not buy any rugs.)
I did buy a tiny ceramic dish with the classic Istanbul tulip motif at the pottery center. This was an interesting stop, as they had dug out the space for a private historical pottery museum, a lovely space which also hosts concerts. The center employs several master potters and their work, which is on display in another section of the museum, is spectacular. It is exciting to see traditional shapes and designs interpreted into modern pieces. I particularly love the tulip motifs, which I've been using in this travel journal.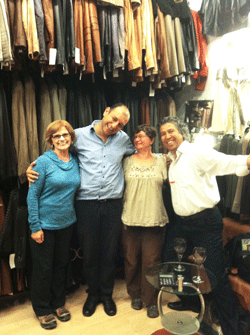 Mert had told us that souvenir shopping was best done in Kuşadası, a major cruise port (also, this was the end of our trip so no need to lug stuff around on the bus), and he gave us an orientation around the shops for our free time after visiting Ephesus. I wanted some evil eye charms for holiday stocking stuffers, and perhaps a travel-sized backgammon board. I also needed a new leather jacket. (Turkey is a good place to buy leather goods, which I didn't know before the trip.) After a light lunch, Susie and I strolled through the market streets with these ideas in mind. I tried on one jacket in a style I loved but a color I didn't (who buys a white leather jacket?), and decided to look a bit more when this shop keeper essentially dragged us into his shop. Fortunately, Niko was hilarious; he could open a store on Castro and make a killing. Our bargaining included tea, then wine, then an offer to include his colleague and $10,000 US if I bought the jacket I was interested in (black, very stylish, chamois and goat skin, good price too). Well, I bought the jacket, then Susie bought a jacket. I felt bad about that, so I drank more wine. Then we took photos and walked back to the hotel after picking up some lovely wood carved backgammon sets.
My quest for evil eye amulets finally came to fruition in Izmir. Of course, one can find them in any tourist center, travel stop, convenience store in Turkey, and I scoped them out throughout the tour, but when I was finally ready to stock up during the Kuşadası shopping spree... hiçbir şey. I was almost resigned to stooping to checking airport shops when I spotted a display on a side street in the Kemeralti market bazaar, near Yali Mosque in Konak Square. This turned out to be the evil eye amulet mother lode: a bead store, with every size, shape, and color of evil eye bead imaginable. And so cheap! We even got ourselves earrings for about 5 lira each (and my earlobes haven't turned green yet). I spent my remaining lira on a box of Turkish Delight in the duty free shop. Sweet!
Next: Resources & Links
Return to Turkey 2014 Index