Suyoupenging across China
7 November 2009
In addition to the performances of Ju Hua Xiang, being in China offers a variety of opportunities for what a friend's husband calls "suyoupenging." Deprived of my constant supply of web photos and media downloads (just as well, as my 56K modem is driving me to distraction: must... get... DSL), I can plunge into some actual filming locations, scout for cheap DVDs, and otherwise keep myself from suffering serious withdrawal symptoms.
Shanghai
When I met up with Jeong in Shanghai on June 15th, we each pulled out our stash of treasures: I had the postcards that we were sending to fans from Shanghai, plus the calling cards we made, while Jeong had brought the copy of Alec's autobiography that I picked up through the Yahoo Singapore auction and a copy of the beautifully illustrated Aegean Sea book (plus VCD!), as well as some stuff she had burned on CD for me.
We spent a good chunk of the day taking the Aegean Sea tour of the city with Florence. First a taxi to Danling-Lingshi Park, in North Shanghai, a large and beautifully landscaped public area which is the site of several important scenes from Love of the Aegean Sea, a 2002 SYP drama shot in Greece and Shanghai. Then on to Duolun Lu (aka "Cultural Celebrities Street"), among other things the site of the art gallery with the Dali painting, where En Qi and Xiao Tong first meet again in Shanghai, in that romantic 360-degree shot. (Fans of the drama will know the importance of this spot!) Jeong has nicely written up our tour for the Voices forum so I won't repeat her descriptions, just add a few photos:
An afterthought, getting coffee in the shopping mall across from the Majestic that evening, we wander into Folli Follie, but their current jewelry designs are appallingly tacky, no sign of Plato's Eternity.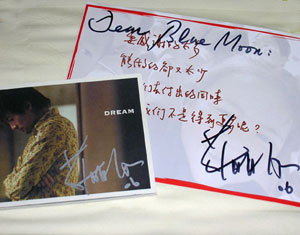 Next day, we met Florence's brother- and sister-in-law for lunch: Mongolian Bone King barbeque and hot pot. And xiao longxia, little lobsters, are in season. Can't pass these up, especially since "xiao longxia" is the nickname of Jang Nara's character in Bratty Princess. Everything is delicious, and this turns out to be one of the very best meals I have throughout the entire trip. Yum. We do a little shopping; Jeong is on a mission to find the place that made Happy Lady from HK's laminated fans. I pick up a couple of DVDs (Taklamakan and PAJQ, no subtitles of course but they are very cheap), and a second version of the Love of the Aegean Sea book (I think this one is a novelization and nowhere as cool as the one Jeong got for me, but has lots of photos).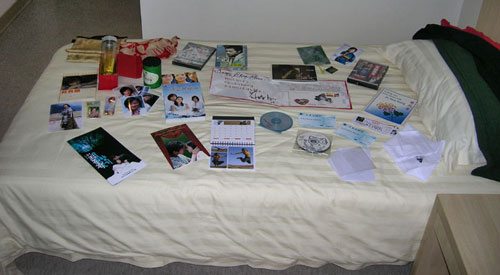 By the time I leave the Jin Jiang Inn on the 17th, I have accumulated a huge collection of treasures, including a autographed copy of SYP's Dream book (his blog notes during preparations and rehearsals for the play), and a set of charity stamps that yingying has managed to get personally signed for me (bless her).
Guiyang
22 June
Ann joins me for an early pre-breakfast walk to find the Mingzu billboard. Our hotel location is not good for strolling about, but it's very interesting to see the baozi, noodle and pancake stalls setting up for people to grab a bite on their way to work. Bussing here and there around Guiyang, I've seen the usual familiar faces on huge billboards for Motorola, Pepsi, etc. ... Jet Li, Jay Chou, and Andy Lau (who as usual is everywhere). In contrast, Su You Peng's image adorns the top and sides of a small street shop (the kind with metal doors that slide up and down), selling shoes. I've seen the photos from this ad campaign on the web site. He had fun doing this: looks happy and adorable. Ann and I overshoot the location at first but on the walk back I spot the billboard from across the street, and take some photos. Once I realize it's a shop, and not just a sign, I need to go over for a closer look. A young woman who is teaching English at one of the local colleges stops to chat with us and practice her English (I don't think she realized what I was doing, just saw two Caucasian women on the street and grabbed her chance).
Kunming
23 June
I love going into CD/DVD shops in China, especially the smaller ones. I immediately head for the Chinese male singer music section, and a shopgirl tries to direct me to the English-language music, pointing to Frank Sinatra or U2 CDs. I try to explain that I want Chinese music, not American music. Much hand-waving and confusion, especially if they don't have any staff who speak English. So I just smile and say "Su You Peng" and they get all excited and madly run around looking for stuff. This place had two different double VCD sets of MV clips (likely bootlegs), for 10 RMB (that's about $1.25) each. So I buy them both, wiping out their entire SYP stock. No CDs, though.
Lijiang
27 June
On our way through New Town Lijiang towards our Naxi village visit, I spot a store sign through the bus window that I just can't quite believe. So when Bob finally gives us a break from his non-stop day of touring, I head past the waterwheels and the statue of Chairman Mao, and take a picture: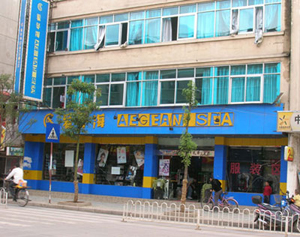 It's a CD shop, but ultimately a disappointment. Only one lonely copy of Before and After; not even any box sets of the LOTAS series. Their stock is pretty minimal, in fact, with a motley selection of clothes and accessories taking up half the space. The staff does not even approach me, and they are playing English New Age-y music, so I head back home. I know, I should have at least asked about the name of the shop, but I didn't. I had somewhat better luck in another shop inside Old Town, picking up a collection of Xiao Hu Dui music videos on VCD. The clerk smiled at me a lot, once she recovered from the shock of my reason for shopping there.
Beijing
Site of:
» The Forbidden City, familiar to any viewer of Chinese film and television as the home of two of SYP's best-loved characters: Wu A Ge in Huan Zu Ge Ge and Zhu Yun in Bratty Princess — oh yeah, and also to a bunch of actual Chinese emperors. The main hall was closed for renovation, but we did get to see the famous marble-carved steps, which really are impressive.
» The Great Wall, where Yang Si Lang has his tragic demise in YMHJ. I don't know where those scenes were actually filmed, but it was easy to mentally revisit the series on the wall at Mutianyu. Also where SYP performed in the 2002 Great Wall concert (which I think was at Badaling).
| | |
| --- | --- |
| | |
| | |
As a final small treat in Beijing, it turns out that Yi Tian Tu Long Ji [Heaven Sword and Dragon Sabre] is running every day from 8 am until 5 pm this week on TV, so I am able to catch bits and pieces in the mornings and during our mid-afternoon "rest and recuperate" sessions. Early episodes mostly; I do see the scene where Zhang Wuji's parents kill themselves and the devastating discovery by Wuji, some episodes later, that he is being used by his godfather's enemies. YP can just tear your heart out of your chest when he cries. By the time I have to leave Beijing, Wuji has started to collect his young women ... I really need to watch this series again, right after I rewatch YMHJ, and all of the new stuff I have picked up on this trip. Oh yeah, and the downloads I have been collecting for the past few months but have not had time to even watch.
Last but not least, wandering around Bejiing airport shops in a feeble attempt to spend some of my remaining RMB, I found a very cheap pair of silver earrings with the Chinese character "ai" (love) ... which is also the title of a Su You Peng song dating from early in his career. Of course I picked these up.
Shangri-la
China 2006 Index