Style and Revolution
The very name "Cuba" is evocative of style: stunning Colonial, Art Deco, and Moderne architecture, vintage automobiles, splashes of tropical colors on dancers and in cocktail glasses, sultry music wafting around every street corner...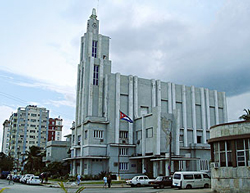 Havana architecture, even amongst decay, includes an array of beautiful buildings. Old Havana squares contain some gems in the Colonial style of the eighteenth century, and Art Deco is well represented as well. Because of the economic downturn in Cuba in recent decades, many of the city's buildings are in decay and disrepair; on the other hand, they haven't been replaced with ugly or nondescript modern skyscrapers. The government is making an effort to restore Cuba's architectural treasures, and more than one historic district is represented in the UNESCO listings. So there's hope.
Havana's jewel in its architectural crown is the breathtaking Hotel Nacional de Cuba, perched on a hill in the Vedado district overlooking the Malecon; the masterful combination of styles had remarkably harmonious results. Opened in December 1930, the hotel's history is intimately intertwined with that of Havana through the rest of the turbulent 20th century. Gangsters, movie stars, statesmen, sports figures, revolutionaries: everyone who's everyone has stayed in, or at least visited, the Nacional. Whole books could be written about the Nacional's history since it opened in December 1930, and in fact, I picked one of these up at the Havana airport on our way home — Revelations of a Legend: Nacional de Cuba Hotel by Luis Báez and Pedro de la Hoz — and it's a thoroughly entertaining read.
We returned to Havana and the Riviera for one night to end our trip, arriving just before lunchtime, afterwards splitting up for last-minute shopping, sight-seeing, and possibly naps. I headed to the Film Institute with Catherine, meeting up with Ann and Tomi there. I was hoping to snag a copy of ¡Vampiros en la Habana! on DVD. Alas, the shop's stocks were pretty skimpy, but we were chatted up over coffee in the cafe by a guy who was selling bootlegs, and he slipped home and brought one back for me for $4CUC. Across the street, the Institute gallery had a cool display of film posters, local and international. It was a short walk to our late afternoon appointment, with time to wander around the neighborhood, take a few random photos, and chat with a Swiss couple eating at a local restaurant owned by the family of a Cuban living in Switzerland.
On our final day in Havana, we were privileged to meet with Mariela Castro, director of CENESEX (Centro National de Education Sexual), who spoke with us about the center's history and current anti-homophobia and LGBT rights programs. Eloquent and charming (and refusing to rest on the laurels of her famous father Raul and even more famous uncle Fidel), Ms. Castro stole time from her busy schedule to field questions, which she answered with frankness and humor. Greg told us later that our being from San Francisco helped our getting this unusual attention; Ms. Castro visited the Bay Area in the summer of 2012 and was impressed with the understanding of and support for the efforts of her program. After our meeting, an assistant gave us a short tour around the airy three-story building in the Vedado district, which serves as a refuge for members of the LGBT community and displays an assortment of whimsical sculptures of a sexual nature in its atrium and adjoining patio garden. When we admired the posters from the CENESEX anti-homophobia campaign, which were both witty and to the point, copies were quickly gathered and passed out to us.
Ms. Castro also accepted our invitation to join us that evening for our farewell dinner (and, it appears, was also instrumental in getting us our venue, which had originally been scheduled in the Riviera's dining room). This dinner was definitely one of the highlights of the trip. We returned to the Palacio de Bellas Artes and were greeted at the entrance a breathtakingly lovely setting for the meal in the museum's atrium—and mojitos, of course. The food was delicious, most of the Havana scholars who had given lectures during the trip (as well as Mariela Castro and her husband) were able to join us, and a very good jazz ensemble played throughout dinner. Our group photo clearly shows how successful the evening was.
Afterwards, I joined Rich, Maria, Joan, Susie and Mary for cocktails at the Hotel Nacional; I hadn't yet had a chance to check out this landmark and was happy for the last-minute opportunity. We wandered around the lobby, admiring the art and decor, dropped by the history room with its chronological display of photos and artifacts from a wealth of famous visitors, and relaxed on the terrace to listen to the band with drinks and a cigar. Perfect end for a perfect evening!
After breakfast, we had a few hours to kill before heading to the airport. Susie, Ann and I decided to visit the "must see" Plaza de la Revolución which so far we had only seen from the bus. This is the huge public square noted for political rallies and addresses by Fidel Castro, and is dominated by the José Martí Memorial. Facing this structure is the Ministry of the Interior (likely the most-photographed building in Cuba), with its gigantic steel mural of Che Guevara, using Korda's iconic image and Che's slogan "Hasta la Victoria Siempre." In 2009, celebrating the 50th anniversary of his death, a steel outline of guerrilla commander Camilo Cienfuegos accompanied by the words "Vas bien, Fidel" (Cienfuegos' famous response in reply to Fidel's question "Am I doing all right, Camilo?" at a rally on January 8, 1959) was added to the side of the Ministry of Informatics and Communications building nearby. We returned to the hotel via Coco taxi, a more expensive taxi option but which took us via some side streets and was a lot of fun.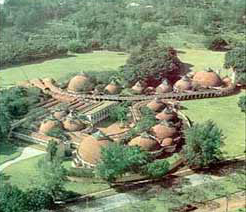 And then, to the airport and home. Gustavo gave us another of his whirlwind bus tours through the western suburban district of Havana, once the center of pricey homes and country clubs for foreigners, now converted to schools, embassies and the Instituto Superior de Arte, which includes Gustavo's favorite building, the Escuela de Bellas Artes, with a design by Cuban architect Ricardo Porro graphically evoking the female form (including fallopian tube hallways and a vulva-shaped fountain). After this astonishing sight, Maria presented cards and tips to Gustavo and Jorge with our thanks, Gustavo made a speech, and Carlos read us a poem he wrote, while feeling a bit homesick, that brought many of us to tears. No surprise that we polished off two bottles of rum while waiting to board the charter to the US. I was surprised that we made our connection in Miami, with minimal harassment in customs, but the flight to San Francisco was delayed so we didn't land until 2:30 am. Good decision to take the next day off for sleeping in and recovery!
Susie's son Mike (to whom we are forever grateful!) picked us up at SFO and asked,"So, are you guys communists now?" Hmm, probably not; but with luck we think and move a bit more like Cubans.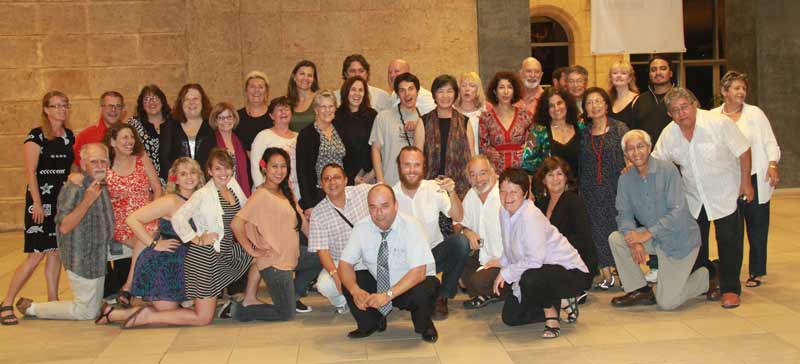 Resources and Links
Return to Cuba 2012-2013 Index