Santa Clara: Hasta la victoria siempre
In Cuba, Che Guevara is everywhere. His image appears on billboards along with revolutionary quotes, book stalls overflow with volumes by and about him, tourist shops display t-shirts in every color imaginable with the famous Alexander Korda photo, which has also tapped the imaginations of Cuban artists whose work can be found in museums and galleries. Jose Marti, whose monumental sculpture adorns the Plaza de la Revolución in Havana's Vedado district, might be Cuba's soul, but Che is undoubtedly the heart of the people of this country.
Nowhere is this charismatic revolutionary more revered than in Santa Clara, site of the pivotal December 1958 battle that became the final decisive military victory of the Cuban Revolution. On a rolling hilltop overlooking the city, the impressive Ernesto Guevara Sculptural Complex, completed in 1988, includes a 22 foot bronze statue of Che as part of an extensive sculptural display, as well as the mausoleum and museum. Before visiting the museum and mausoleum we met with one of the staff members in the conference room, who gave us a detailed account of the Battle of Santa Clara. Despite including much more information than any of us could take in, the gentleman's casual but stunning comment to end his presentation that he himself took part in the event made us realize the immediacy of the location and its history to the Cuban people.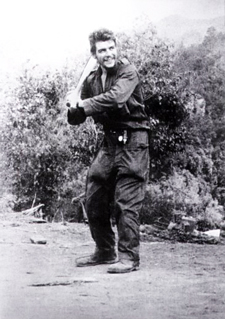 The museum is attractively laid out with a large collection of artifacts detailing Che's life, from childhood through his medical, military and political careers. Guevara's personality shows through a variety of photographs, in many of which he is smiling or laughing. Prominently displayed here, and sculptured into the memorial, is Che's 1965 letter of resignation to Fidel Castro, which includes the phrase most associated with Che's revolutionary passion, "Hasta la victoria siempre." Gustavo read this letter to us, translating some of the passages. A museum guide, who had the entire text memorized, stood ready to decipher some difficult to read passages.
Before preparing for this trip, I had a rudimentary knowledge of Che Guevara, mostly from his international iconization as a symbol of countercultural rebellion. I'd seen the recent film adaptation of his South American road trip memoir, The Motorcycle Diaries, but hadn't read any of his prolific writings. I started by reading The Motorcycle Diaries, which impressed me by being a very well-written glimpse into how a young man's desire for adventure broadened into thoughtful empathy for the common people and the beginnings of a political philosophy that would turn him into a revolutionary guerrilla fighter. The man can really write! Che's legacy, still, is tumultuous and contradictory. But whatever one thinks about his political views, it is certainly true that this was someone who was willing to live and die by his principles.
The mausoleum, designed to resemble the jungle campsites that Che and his guerrillas used in Bolivia, contains Che's remains and those of twenty-nine of his fellow combatants killed in the 1967 campaign, faces sculpted in clay on niches set into the wall. An eternal flame burns to one side. It's small and intimate, and one of the most emotionally powerful places I've ever been.
From the memorial, we headed to our Santa Clara lodgings, and were surprised to find ourselves in a tropical village rather than the colonial and art deco architecture we'd been experiencing. Hotel Los Caneyes has architecture that imitates the dwellings of the indigenous Pre-Columbian Taíno Indians, round and octagonal bungalows with thatched roofs set amongst coconut palms, with whimsical carvings in tree boles and stumps. The pool (and poolside bar) were perfect for a relaxing afternoon.
We spent the evening exploring Santa Clara's town center, Parque Vidal, checking out the options for food, booze and music. We'd had a pretty large buffet lunch at the hotel, so some of us settled on pairing individual pizzas at El Rapido with mojitos at a corner bar, while others gauged the various restaurants touted by locals. (The guy who approached me, while I was ordering drinks, could name the entire Giants' starting lineup and pitchers, so he gets extra points although we didn't take him up on the food offer.) After giving up our efforts to buy ice cream from a very popular shop (groups of locals kept cutting in front of us in a line that never seemed to advance), Susie and I found a bench and listened to the Philharmonic Band playing traditional music in the Glorieta (gazebo) while watching some cute little girls dance their way around the square.
Next: Style and Revolution
Return to Cuba 2012-2013 Index