SYPing in the New Territories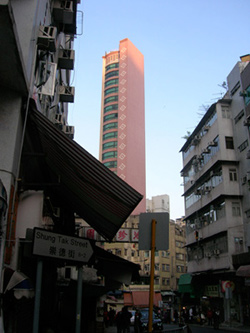 Our day with the Hong Kong Su You Peng fans was a very non-tourist look at local life in the New Territories. Stretching north of Kowloon to the Sham Chun River, which is the border between Hong Kong and Mainland China, the area includes rural areas and parklands, as well as several new towns built to accommodate the population growth from urbanized areas of Kowloon and Hong Kong Island. More importantly, it's the home of Lok, the energetic heart of the HK SYP Fan Club, who organized a day of fun and exploration for their visiting foreign compatriots.
Pinky collected Nickie and me at our hotel in Kowloon, and we boarded the MRT, to meet up with Lok at the New Town Plaza next to the Sha Tin station. First stop, group dim sum at Maxim's Palace. This is a huge, busy restaurant (part of a HK chain), but the wait for a table for eight was surprisingly short. I'm not at all sure what was in most of the dishes ordered, but it was all quite yummy. Gifts were happily exchanged while we ate: I had brought copies of the 2010 SYP desk calendar, and nickie and I were given a selection of treasures by our HK friends. Afterwards, we decided to skip a visit to Snoopy's World, the first Peanuts outdoor playground in Asia, to enjoy a more local excursion.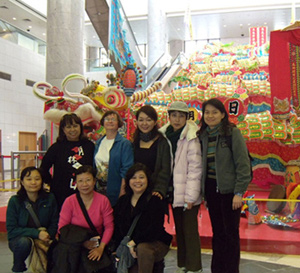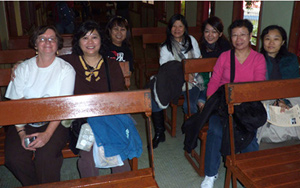 From New Town, we walked to the Hong Kong Heritage Museum, which has a very nice collection of exhibits on life in the New Territories, Cantonese opera, Chinse art and sculpture. The dragon curling its way up the stairway in the entryway was 200 feet long (about the size of the largest dragon in the San Francisco Chinese New Year parade)!
From the Heritage Museum we went on to the HK Railway Museum in Tai Po, where several groups of graduating students, newly-wedded couples, and fashion models were having their photos shot. Here we are posing in one of the vintage cars: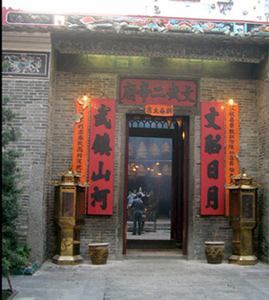 Also in Tai Po is the Man Mo Temple, built in the 1890s and now one of the "declared monuments" in Hong Kong. Tucked next to a funeral parlor and across from the Tai Po Market stalls (as pinky said, "life and death close together"), this temple honors local literature (Man) and military (Mo) gods and serves as a gathering point in the neighborhood.
Time for dinner! Another short walk, and we met Lok's husband at a restaurant I think was called "Grandma's Roast Duck," where we ate the signature dish and a whole bunch of other stuff. Then on to Lok's home where we gathered around to look through photos and videos for a while, before heading by taxi to the Ladies' Market (Tung Choi Street, Mongkok), one of Hong Kong's many bustling night markets. Nickie had a few items on her list, which we didn't find, but it was fun "window shopping" and people-watching through the stalls. Finally, after a VERY long and busy day, pinky dropped us back at the hotel, and we collapsed.

Next: More Random Hong Kong Rambles
Return to Three Chinese Cities 2009 Index