Music in the Air
People who haven't been to Cuba ask, "Is it true that there is music being played on every corner?" Answer: pretty much, yes. Music infuses all of Cuban culture, connected to both the country's Spanish roots and the religious practices of the African slaves. On nights when the waves weren't crashing over the Malecón sea wall, we could hear drums and singing through the hotel's open windows.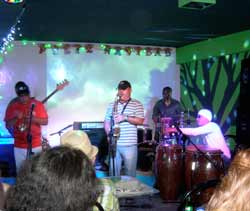 Our formal introduction to Cuban music was at a funky small bar called El Bosque, where we had a private jazz concert; Greg said these were some of the best jazz musicians in Cuba. They were excellent, talked about their backgrounds as Greg translated, and got us up to dance. Luckily, we were to get much better at this by the end of our trip.
On a whirlwind shopping stop at the Havana crafts mart, I decided to look for some small musical instruments as souvenirs, as two of my brothers are musicians (and if they read this they will know what they're getting for their next birthdays). Tagging behind Greg through aisles and aisles of artwork, we found a vendor who had some items that were not just for tourists (ie, colorfully labelled "Cuba" — which would not go over well at US customs), and I bought some wooden claves, a güiro carved from a gourd, and a set of maracas which, according to the seller, were made from bull's testicles (!). True or not, this purchase got me some serious shopping cred on the bus.
Carlos, who was looking more and more Cuban by the day, picked up a set of bongos in Cienfuegos, obtained for him by one of the Los Naranjos musicians. Greg approved the choice, noting that one of the drum heads was made using the traditional x-ray film. Who knew? All those old DNA sequencing films I tossed away back when I was a molecular biologist could have been recycled to make beautiful music! Carlos had the room next to ours in the Santa Clara caneye, and we were treated to soft bongo serenades before bedtime and agan the following morning.
Several of the next musical performances we attended were in Santeria centers, although it's not possible to completely separate sacred and secular music in Cuba. Meanwhile, we heard live music playing at every meal (well, except breakfast). I was charmed during our lobster lunch at La Terraza in Cojimar (a Hemingway hangout, of course) to hear the performers playing a lovely version of "And I Love Her," one of my very fave Beatles tunes. The Trio Baconao at the Café Mercurio in the Plaza de San Francisco were happy to take requests, and I bought one of their CDs. And the evening of our arrival in Cienfuegos, we had happy hour drinks in the bar at the edge of the bay, listening to another very good ensemble.
Of course, we heard plenty of versions of "Guantanamera," which is the best internationally known Cuban popular song, courtesy of Pete Seeger who adapted the lyrics with some English words to be sung as part of the peace movement. The "official" Spanish lyrics are based on selections from the poetry collection Versos Sencillos (Simple Verses) by Cuban national hero José Martí, elevating the tune to unofficial national anthem status. In Cienfuegos, strolling after dinner outside out hotel, Ann, Mary and I stopped to listen to a guy who was playing guitar and singing on his front porch with some friends. After chatting a bit, he made up some lyrics for the song about visitors from San Francisco, California.
Also in Cienfuegos, we were treated with a concert by Los Naranjos, a band that had been in existence since 1926, making them one of the oldest (and most respected) son groups. Los Naranjos uses the traditional format of a son conjunto with guitar, tres, bongó, trumpet, bass, clave and maracas. This turned into quite a lively evening, with everybody on their feet dancing and cooling off between songs with potent mojitos.

R&R: Cuba Style!
Return to Cuba 2012-2013 Index