九华山: Jiuhuashan
Bullet train to Hefei
Sunday morning our small tour group left the hotel for the train station, to catch the bullet train to Hefei. The trains were quite comfortable (they were screening Fearless on TVs in the front of the car, but no headphones or listening devices that I could see). We arrived in Hefei in about an hour, and were met by Jasmine, our local guide.
After a quick lunch (Mike and I shared a generous and messy dish of spicy crawfish, yum!), we headed for Jiuhuashan, one of the four sacred mountains of Chinese Buddhism.
Originally known as Jiuzi (Nine-Peak) Mountain, the name was changed after the celebrated Tang Dynasty poet Li Bai wrote of the mountain's peaks seen through the mist as resembling nine lotus flowers; hence, the mountain is now known as Jiuhuashan, or "Nine Lotus" Mountain. At one time there were more than 600 temples on the mountain; around 90 of these remain, housing about 1,000 monks and nuns. In 719 AD a devout prince from South Korea, Kim Gyo Gak, came to study on Jiuhuashan; after his death his body did not decay and he is believed to have been a reincarnation of the Bodkhisattva Dizang (or Kshitigarbha), Guardian of the Earth who delivers people from the torments of Hell. This devotional emphasis has resulted in numerous depictions of Hell in dioramas every bit as horrific—and sometimes even more creative—as Gustav Dore's famous illustrations of Dante's Inferno. Kim's mummy and that of another holy monk, Wu Xia, are preserved as relics, coated in gold; the latter is on display inside the Longevity Palace.
The 39 Million Steps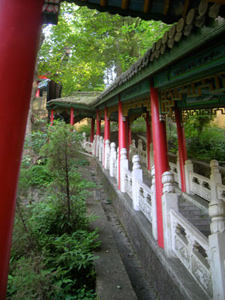 Visiting Jiuhuashan is a serious hiking endeavor (as can be seen from the map at left). Jiuhuashan village, about 7,000 population, is tucked within the mountain, surrounded by peaks dotted with a variety of temples, monasteries, and stupas. We stayed in the Dongya Hotel inside the village, and took several walking excursions from this center. A gondola carries visitors up to one section, where a series of steps leads further upward, and cable cars behind the large Hall of the Mortal Body climb up to another area, with more of the same. From these peaks, the further heights of Tiantai, topped with more temples, can be seen. Our second day here we took a local bus to Tiantai, boarded another cable car, and explored more mountaintop temples. The views everywhere are breathtaking (as is the climbing).
It's impossible to remember all of the names of the various temples we visited; each had its own architectural or monument style, many cut into steep cliffs, hanging precariously in space. There were some lovely statues of Guanyin, several manifestations of the Guardians of Hell, and more than one set of 500 Arhats. We saw the encased footstep of the Bodhisattva in the Terrace of Worshipping Sutra, and original Buddhist texts such as Wu Xia's Huayang Sutras.
Village life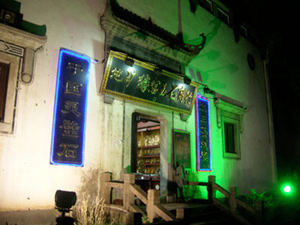 The six of us seemed to be the only Westerners in the village; most of the visitors are Chinese or Korean, and visiting as pilgrims rather than as tourists. The area is famous for a variety of fungi, and we had lunch one day in a local restaurant and chose the contents of our dishes from baskets of greens, mushrooms, and other freshly obtained fare. It was not much cooler here than in Wuhan, but very pleasant wandering around the village in the evening, listening to drums in the village square and visiting the shops. One of these, with a nice selection of prayer beads and jade jewelry, was in an older building dating to the Tang Dynasty, in which Li Bai supposedly had stayed. Upstairs was a teahouse named for the poet, with karaoke Chinese opera and folk song performances, offering a charmingly funky diversion one evening, which also happened to be my birthday (fortunately, this went unremarked and we were not treated to any spontaneous outbursts of birthday karaoke).
Our two-night stay might have been more than enough time to explore Jiuhuashan, but I found it an excellent choice for winding down after the teaching program. In addition, in the knowledge that both Huangshan and Shanghai would be filled with increasingly more tourists, I thoroughly enjoyed the peace and quiet.