In the Mood for ... Hong Kong
Several decades of watching Hong Kong movies have left a series of strong impressions of this dynamic city, but this is the first time I have made an actual visit. I met Nickie at the airport when her plane landed, and we arrived at our hotel in Tsim Sha Tsui, admired the view of the side harbor, settled in, and then arranged to meet a friend for dinner. YTSL is someone I "met" on the Mobius film forum, through a shared love of Asian movies, and she proved a delightful guide to a WKW-infused evening.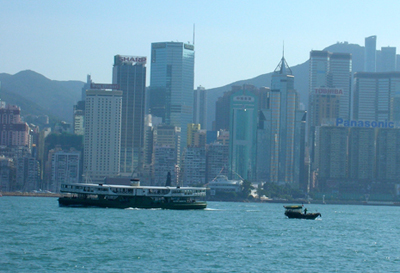 After taking the Star Ferry ($2HK! still a bargain!) across the harbor, we headed to our meeting place, a British pub conveniently located near the moving escalator of Chungking Express fame. Over pints, we decided to have dinner at the Goldfinch, a restaurant trapped in a mid-twentieth century time warp and which is featured in two WKW films, In the Mood for Love and 2046. Walking above the streets to the tram, YTSL pointed out the street cafe where Faye Wong's quirky waitress dragged baskets of produce past a lunching Tony Leung.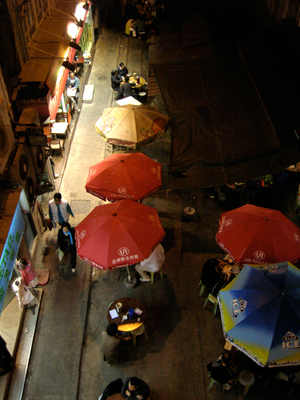 The tram was fun: we went upstairs and grabbed seats in the very front, for a terrific look at the bustle of Wan Chai and Causeway Bay, as our "guide" pointed out various locations of movie mayhem and/or romantic rendezvous (in Hong Kong cinema, these are often the same thing).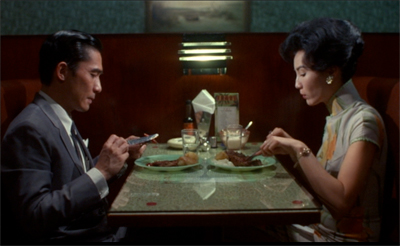 The restaurant was busy but the wait not too long. The menu featured a "2046 Special" (that being the price of the meal), and we were seated in the section of the Goldfinch featured in the more recent of the two films, but the only sensible option, in my opinion, was to have what Maggie Cheung was having: steak. The cuisine is some unique hybrid of Western food with Asian sauces, and the portions are huge. The decor appears unchanged from fifty years ago, which was probably what inspired WKW to film scenes from the 1960s-set In the Mood there.

Across the harbour, our hotel in Tsim Sha Tsui was conveniently close to Chungking Mansions (where, helped by Nickie's skillful bargaining, I bought an electronic translator) and an easy stroll to the Avenue of Stars, with its spectacular view of Hong Kong Island across the water. Most of the foot traffic was concentrated around the prominent statue of Bruce Lee, but I was more interested in finding this commemoration to my favorite actor, Leslie Cheung: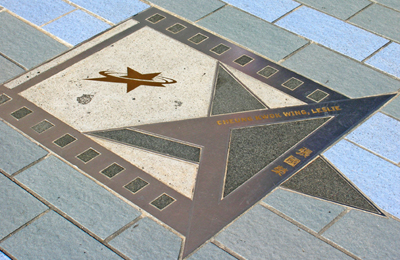 If I'd had more time, I might have rewatched more of the classic HK films before my trip to refresh my sense of geography, but in truth Hong Kong is one of a handful of cities that can serve as a film's leading character, rather than merely as a setting. The entire city, as well as being vibrant, is both exotic and refreshingly familiar.