Happy Holidays!
December 2014
So, 2014 has almost flown by. I'm always pleased when I look back to the year's beginning and realize how many unexpected parties have filled the time. Of course, one can make a few shrewd predictions: I probably won't become independently wealthy (rats!); I will find a wonderful new local restaurant (Pho 84); the Giants will win the World Series (even-numbered year); our movies houses will be graced with at least one totally original film (Snowpiercer).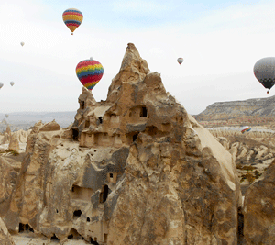 But I didn't expect to be floating in a hot air balloon over the fairy chimneys of Cappadocia, or helping give Candlestick Park a McCartney sendoff, or learning about the Hittites while sitting on the excavated marble columns of Aphrodisia, or gate-crashing a naturalization ceremony on Angel Island, or watching Beach Blanket Babylon perform in the rotunda of City Hall.
Per my first prediction I'm still working, but trying to cut back my very ugly commute with more days off and a bit of travel. I've done some freelance stuff this year, and my new client, talented cabaret activist Candace Roberts, is doing some inspirational stuff. I commandeered a Tardis for the Action Chicks and have been sending them on new adventures in time and space. (Hmm, I think they are overdue for some travel...) Mythcon was in Massachusetts this summer, which made it easy to include a New Jersey stopover. Terry & Chris hosted a BBQ to gather various and sundry relatives, Jeanne & John arranged a trip down the shore, Rocky and I did baseball stuff, and there was sufficient intake of pizza, beer, and burgers.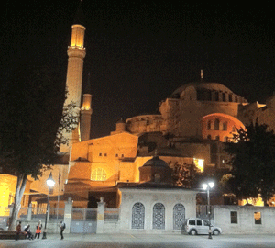 Sometime in the Spring my travel buddy Susie suggested a trip to Turkey. Well, who wouldn't want to visit Istanbul, one of the world's great cities? So we signed up for a Rick Steves October tour and I tried to read up on Turkish history in my spare time between work and baseball games. (We also had to decide which part of the post-season to spend on the other side of the world; that worked out well as we got home just before the World Series, and I even got to attend a game! That, along with being in the ballpark for Tim Lincecum's second no-hitter and a battery grand slam extravaganza, more than made up for a very weird season.)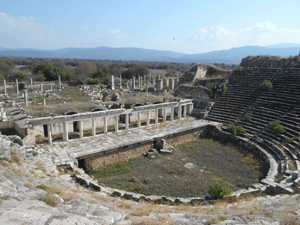 Turkey was beautiful and amazing. From the Byzantine architecture vs. bustling modernity of Istanbul, to the otherworldly landscapes of central Anatolia, to the wonderfully fresh and tasty cuisine, to the breathtaking antiquity and history of Ephesus, Aphrodisia, and Hieropolis—every new stop brought new delights. I've made many lasting friendships during my travels, but our Turkey tour group (20 people plus our fabulous guide Mert, whose archeology background was a treasure in itself) was the best ever. We had so much fun that we pretty much refused to be parted during free time. (And most, maybe all, of us are planning to meet up at the January Rick Steves Reunion Weekend in Seattle.) My travel journal is up on my web site; check it out if you want to know more.
Thanksgiving is over, so we're beyond the official start of the holiday season. I'm enjoying just hanging out in San Francisco and catching up on foodie adventures with friends, local museum exhibits, binge TV watching, a bit of late spring cleaning (sadly, never enough), and some sleeping in. I wish all of you pleasant holiday excursions, near or far, and send my best wishes for the coming year. Expect the unexpected; it works for me!