Happy Holidays!
December 2013
2013 began with lobster and champagne in a cabaret bar in Old Havana, an experience best described as "funky." (Cubans stay home with their families on New Year's Eve, so they can throw water down on revelers running through the streets after midnight. I guess the combination of booze and climate helps prevent pneumonia.) Our CCSF-sponsored Winter Break Study Abroad program was fantastic; instructor Greg Landau knows everybody in Cuba (and I mean everybody, from world-renowned artists and musicians to Santeria babalawo to the Castros) and he gave us a look at a country in transition that few tourists get to experience. For more details, check out my Cuba travel journal (with photos).
Come Spring I got a little baseball-obsessed, and although the Giants did not repeat their 2012 success they remain both inspiring and entertaining. I went to two dozen games last season in the most beautiful baseball venue in the U.S. Come see for yourself: my game buddy Susie and I, remaining optimistic—it's an even-numbered year—gave ourselves a share in a season ticket partnership for the 2014 season as a joint Christmas present to ourselves.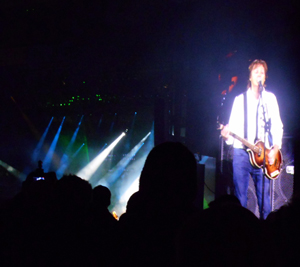 Perhaps as karmic recompense for not being able to retire (from a financial perspective) probably never, I had some good luck winning social media contests this year, including tickets to a Giants game and the SF productions of Jersey Boys and Priscilla, Queen of the Desert. My rugby fanatic friends Bonnie and Eric invited me to attend a weekend college tournament on Treasure Island, which was great fun although it did not make me a devotee. My membership in the Western Neighborhoods Association (that's us San Franciscans living in the fog belt) got me a free volunteer pass to the Outside Lands music fest again this year, which featured... Paul McCartney. Holy crap! It was cold and foggy, and he played for 3 hours. That man is a legend (but I'm sure you knew that).
The 2013 Mythcon was in East Lansing, Michigan, finally providing a reason to return to my undergraduate alma mater. In fact, we were housed across the street and ate in my dorm complex dining facility (well, a new facility as they tore down the old building), a particularly scary prospect since Brody was best known in my day for our spring food riots.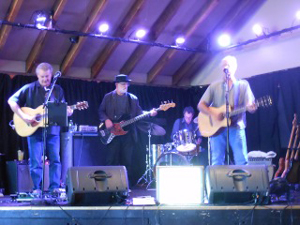 It had been a while since my last East Coast visit, so I decided to make a trip in September during decent weather (and a Giants road trip to NYC), with two weeks to wander old haunts and check out a few new ones. Kevin was also able to take some time off, so my brothers and I got together with our Uncle Walt and cousin Debby and we finally buried our Mom's ashes in the Newark family plot. My brother Rocky's band (Rocky & His Friends) played two gigs, and we got a bunch of cousins to show up, plus friends of mine from a few of my various lives. Rocky got tickets for the Mets game, and the band's drummer Mike joined us. It was a glorious day, a lovely new ballpark (mostly populated by fans in orange and black), a great pitcher's duel, and a Giants win, so good times all around. I joined the Finnerty (Manhattan sports bar for SF expats) Game Bus to go to the Yankee game, which we didn't win, but the free beer on the bus helped relieve the pain.
The Habit, one of Mike's other bands (he plays in four), had a gig at the Knitting Factory in Brooklyn, and Rocky and I took that in. Mike regaled us about the hipsterification of Bed-Sty during the drive; as an ex-Brooklynite, his perspective was very entertaining. And Rocky and I took a little nostalgia tour of South Plainfield Junior Baseball fields and visited the Historical Society and Public Library archives. Rocky is researching the early days of Junior Baseball in SP, an organization our Dad was instrumental in creating.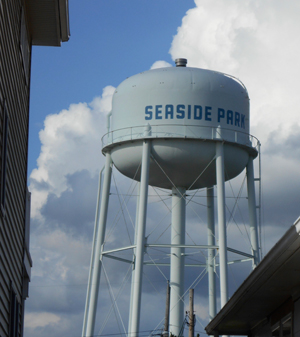 I visited my friends Jeanne and John in the old home town, which still has great Jersey pizza (plus a broader selection of cuisines than when I was a kid). The Seaside Heights boardwalk unfortunately burned down the day before our planned visit, so it was still smoking when we walked to the beach. Hopefully the shore towns will recover eventually, but it was sad to see how ravaged the area still is post-Sandy.
That's the extent of my travels for the year, but being back in San Francisco is no hardship. After all, we've got Batkid (and I was there, cheering him on)! I'll end 2013 with some holiday time off just relaxing in the city and wrapping up orders for a desk calendar designed with my talented friend Pat Wynne and featuring Pat's hilarious cartoons, which has proved very popular. A few small parties, Christmas dinner with friends, a performance of Little Women featuring my cousin Richard (not as one of the LW), and maybe a downtown bar crawl are my only plans for venturing out. As for 2014: surely it will bring more fun stuff, hopefully a bit of extra income from some freelance projects, maybe some impulsive travel.
Happy Holidays to all, and best wishes for the New Year! Don't get bored!