Happy Holidays!
December 2010
Another year come and almost gone: how the heck does this happen? Well, it must have been a busy year to whiz by so quickly. Now, to attempt to recall 2010's events....
This year started quietly for me, spending the holidays at home, catching up on movies and books (I read all of Robert Van Gulik's "Judge Dee" mysteries, great fun!). The San Francisco spring film season brought some very good films to the city, as well as Roger Ebert, honored with the Mel Novikoff Award during the SF International Film Festival. From the fest screenings I saw, I'd particularly recommend Au Revoir Taipei, Bodyguards and Assassins, The Message (I and some fellow fans created an English web site for this film which is now considered "official" by IMDb!), and City of Life and Death (which you should see, but probably only once, trust me).
In April I made my annual visit to LA for the FIDM exhibit of Oscar-nominated costumes, lots of good eats and movie-watching (When You're Strange) with my brother Kevin and our friend Lynn, and we also finally made it to the Getty Center (wow!).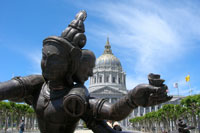 It was a pretty good museum year in the Bay Area, too. The Asian Art Museum had two really nice shows, one celebrating sister city Shanghai's Expo year (including a fabulous sculpture installation by Zhang Huan, "Three Heads, Six Arms," on the City Hall concourse), and the current exhibit of Japanese screens. I was very favorably impressed with the new Disney Family Museum in the Presidio, which I visited with my cousins. And the current Japonesque prints show at the Palace of the Legion of Honor blew me away (why didn't I know about Bertha Lum? or Helen Hyde?).

I really enjoyed my cousin Richard's spring acting gig: a hilarious production of Noises Off in Walnut Creek. Talented chanteuse Vivian Perry put on a fabulous June concert of "Moony Tunes" (classic songs about the moon, of course) at Angelica's Bistro in Redwood City. The Jane Austen Society's Summer Meeting was elegantly period, and my first chance to explore the beautiful architecture of the Julia Morgan-designed Berkeley City Club. The Asian showcased the launch of Trina Robbins' new book about the SF Chinatown nightclubs, Forbidden City, with a performance by club veterans Grant Avenue Follies. Last week my friend Sandra and I saw Sha Sha Higby's new performance at the NOH Space (Sha Sha's work is difficult to explain: just google her if you want to know more!). Yup, when you live in San Francisco, there is just no excuse to ever be bored.
This summer I returned to China, participating in a three-week teaching program at Huazhong Institute of Science & Technology (HUST) in Wuhan (one of the "three furnaces" of China, which during this very rainy summer was also a sauna), sponsored by Teach for Friendship non-profit. Our students were mostly college freshmen, along with a few high school students: very bright, inquisitive, energetic, and totally delightful. I'm very happy that I continue to correspond with them via QQ and email, especially with their busy class schedules. The TFF program's teaching materials and training were quite good; on-site management sadly less so. Luckily my teaching partner Sally and I—who've remained good friends since we met during our 2006 China trip through City College—were able to coordinate our lesson plans beforehand. We even brought matching "舊金山" t-shirts, to wear along with David, another SF teaching recruit, to display our San Francisco gang colors (ie, black) at HUST. My 2010 web travel journal has more info and lots of photos about this adventure.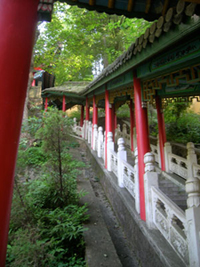 To follow the teaching gig, TFF organized (I use the term loosely) a week-long optional tour to Jiuhuashan and Huangshan, two of China's "sacred mountains," ending with a visit to the Shanghai Expo. This sounded intriguing so Sally and I both signed up. The trip was worth it for the scenery alone: Jiuhuashan ("Nine Lotus Mountain") village (with a Peking opera karaoke-infused tea house, said to have been frequented by—meaning that he drank there—Tang dynasty poet Li Bai) is surrounded by peaks on which a large and charming collection of Buddhist temples and shrines perch, accessible by an assortment of funicular vehicles and a whole lot of steps. Huangshan ("Yellow Mountain") is the one you see in all of those Chinese paintings: incredibly-shaped rocks and trees poking through the mist. (The image I used for this year's holiday greeting is a photo I took on the mountain, digitally tweaked, of course.) Huangshan is a very popular tourist spot, complete with hotel lodgings, but which is only accessible by cable cars and can be explored by hiking up and down many, many more steps.
Our tiny tour group of six people surprisingly provided a lot more personnel drama than we had signed up for, but we did manage to make it to Shanghai—after a thunderstorm that delayed our flight arrival from 11 pm to 4 am—without anyone actually being killed. Most of us were too exhausted to want to spend more than a few hours wandering around the Expo later that day, but it was entertaining and some of the structures quite spectacular. Sally, Mike, Jennifer and I closed the hotel bar (which for some reason had a Charlie Chaplin theme) with some terrific margaritas and a rocking house band, still shaking our heads over the bizarreness of our group dynamics. Before my return flight home, I visited the Shanghai Museum, with its world-class collection, for a few hours (I'd missed that on my previous trip to the city in 2006).
Then it was back to normal for the rest of the year, or so I thought until the 1st Annual New York Chinese Film Festival invited Alec Su to attend (they were showing two of his new films), and the international fan base managed to arrange to meet with our favorite actor/singer. Work had been kinda crazy with a huge print project, so I figured I deserved a long weekend and booked a flight. This was just as chaotic as the 2008 concert event in Reno, but we did succeed, and a bunch of us all attended the opening ceremony, both film screenings—The Message and A Singing Fairy, each followed by a Q&A session—and a delightful afternoon fan meet with Alec in a nearby Italian restaurant, which was mostly in Chinese and incomprehensible but I'm used to that. It was really fun seeing friends I've made who came from Vancouver, Denver, Yokohama.... The Su You Peng family is a wonderful group of people (I also met a lovely bunch of fans from the Wuhan support group when I was there in the summer).
Autumn in San Francisco: another handful of Chinese film festivals, lots of reading (the only good thing about my work commute), quite a lot of work, and I also designed a web site for my brother's band, Rocky & His Friends (check them out if you are in Central Jersey!). And now it's the beginning of the holiday party season. I've been invited to spend Christmas with my very good friends Debby, Terry, Rhiannon and Bryan Jones in St. Paul, so I'm reviewing my wardrobe to make sure I have enough layers (I suspect we'll be spending much of our time celebrating by baking, eating, and drinking indoors, though).
Speaking of which, I hope all you are having a terrific holiday season yourselves. I'm thankful that, despite economic blahs, cultural tensions, weather anomalies and general random weirdness, I have so many good friends and family to send good wishes and seasonal greetings. (Sometimes I'm even thankful for Facebook.) Stay healthy and busy; may the new year bring you health, luck, happiness and wonder.