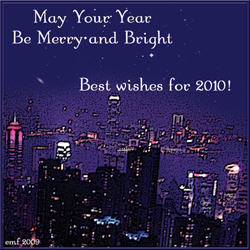 Good grief, another year just blasted through; I was too busy to do more than blink. There were more Chinese language classes (online this year), the usual assortment of San Francisco film festivals, a couple of trips to LA (first in spring for the FIDM costume exhibit excursion with my brother Kevin and friend Lynn, and, in July, a road trip with Chris and Arden to Mythcon), a fun book cover project for the Mythopoeic Press, less reading than usual (which will change in 2010), and work (as with everything, somewhat slow, but I'm thankful to have a job!). In May I used some air miles, languishing in my account, to visit some old haunts on O'ahu. I stayed with my friend Ken in Pupukea on the North Shore, had a lovely reunion with one of my favorite UH thesis advisors, met up with old friends for hiking and food consumption (kalua pig and poke, Leonard's malasadas, fruity drinks at Duke's in Waikiki), attended a Sammath Naur book club meeting (more food consumption, including chocolate haupia pie from Ted's Bakery, conveniently just down the street from Ken's beach house), poked around the Hale'iwa shops and and visited the local heiau, and even saw a movie. All on Hawai'ian time, of course!

This was much-needed R&R because in June I got suckered into joining the staff for the 2009 World Fantasy Convention, back in the Bay Area after some fifteen years, and did the design and layout of the con logo, Souvenir Book and Pocket Program. This turned out to be quite a bit of work (hence the "suckered" tag) but was also very satisfying as we had one of the most professional final products WFC has seen in recent years, if I do say so myself—many thanks to Rina, Jill, and Alan!

The con was held over Hallowe'en weekend in San Jose, and finished just in time for me to pack for a 3-week trip to China. This time I joined up with Global Volunteers for a program in Kunming (昆明, capital of Yunnan Province in SW China, and known as the "City of Eternal Spring" which is why I chose to do this in November), where our eight person team worked for two weeks with Chinese primary and secondary school English teachers to help improve their English conversational skills. This was fun, the reward for our hard work being the enthusiasm of these young educators and their obvious dedication to their own students. In our free time we explored the city and had one weekend outing to the Stone Forest (Shilin, 石林), an extensive area of impressive karst formations. After the teaching stint I headed to Hong Kong and Taipei, two dynamic cities I had not yet explored, and hooked up with some local online friends to experience some local flavor (and flavors). This travel adventure needs more than a paragraph of description, so much longer journal entries (with photos!) will be posted (soon) here on my web site and on my Sina blog.

Meanwhile, back in Baghdad-by-the-Bay, economics and political upheavals may suck but the entertainment and cultural opportunities still can't be beat. This year there was a fabulous exhibit at the Asian Art Museum, "Lords of the Samurai," featuring more than 160 pieces from the Hosokawa family collection. I was able to catch a free Chris Isaak concert at Amoeba Records for the release of his new album (which I got autographed), spend a sunny afternoon at the Dragon Boat Festival on Treasure Island, watch Ang Lee get thoroughly grilled about the sex scenes in his film Lust, Caution, listen to Cyril Pahinui serenading diners at Gordon Biersch Brewery on a balmy Palo Alto evening, and attend my cousin Richard's San Francisco Opera debut as a non-singing detective in their summer production of Porgy and Bess. (Most of this stuff was free, by the way, except for libations.)

Hmm, what else? I'm taking a Saturday morning "Tai Chi for Health" class (three hours of stretching, qigong, Sun and taiji ruler forms, Taoist yoga, and whatever else Sifu Fong decides to toss at us: and it's free!) and try to maintain my walking regimen (not too hard since I'm living sans car). I'm still busy running the Alec Su International Fans forum, and we also launched an English web site for The Message, a high-profile Chinese period espionage thriller which is getting some serious critical attention (and which I finally got to see while I was in Taipei). And this fall I reread all of Jane Austen's novels (including the new one, Pride and Prejudice and Zombies). Not too shabby for one year.

Here's to the next one, may it bring you diversion, satisfaction, peace and joy.