87% Hilly
The morning of June 17th, I packed up and moved across town to the Ocean Hotel, near the Bund, to meet up with the CCSF group at the Shanghai Museum (unfortunately not in time to visit myself). We had lunch and a tour at the Silk Factory, a short river cruise, and strolling on the Bund and Nanjing Road. Then dinner and a performance by a troupe of Chinese acrobats (evidently a tourist must), who are pretty amazing but I still dozed off a few times.
The CCSF China 2006 Study Abroad program is titled "Matriarchs, Monasteries & Mountains." We will be visiting two of the southwest provinces of China: Guizhou and Yunnan, and travelling around by air, train, and bus (plus quite a bit of walking). The CCSF group is quite compatible — many of them have been on these summer classes before, or at least are seasoned travellers. I'm rooming with Ann, who was in my Mandarin class so we've known each other for a few months. There are two couples: Terry & Melanie and Bob & Louise. The rest of the class is female: Sally, Ellen, Sandra, Gloria, Amihan and Barbara. Our instructor, Bob Jones, and a Chinese national guide Shen Mao Mao (who lives in Nanjing) will be there for the entire trip. We'll pick up local guides and drivers at various locations.
I am still waking up at 4:30 am but it doesn't seem to hurt anything except the option of late-night partying. Our days are very early and full so it's unlikely we'll be doing much of that! I do find it pretty ironic that for the next two and a half weeks we will be visiting and studying some of the many ethnic minority cultures of China (there are officially 56 ethnic groups in the country, the majority Han plus 55 others), whereas for the past two and a half days I have been an ethnic minority, and a fairly well-studied one at that!
Guizhou Province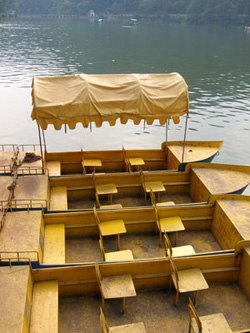 18 June
Breakfast and to the airport for our flight to Guiyang, then check in at the Miracle Hotel which is quite nice. Some afternoon jaunts to Qianling Park, quite lively with a Buddhist temple on top of the hill, a lake with boats for rent, and many monkeys (one of whom bites a tourist, luckily not one of our group). After that, Kiaxin Pavilion in the heart of the city — once a school, now teahouse and shops with some museum-y displays. Dinner. They feed us a lot — which I understand will continue for the next few weeks. Beer is included with both lunch and dinner every day, also no hardship.
Next morning, we leave Guiyang on the bus for Kaili — passing a Mingzu billboard, with SYP in mid-air, on Baoshan Bei Lu so I must check this out when we return in a few days. [See Suyoupenging]
Once we get away from the city and up into the hills, the scenery is beautiful. Guizhou is "87% hilly" so all the farming is done on terraces. It is not long before we see water buffalo. This is a very poor province and most of the people are farmers. Tourism is just starting, mostly in the minority villages where tours and performances and craft demonstrations can be arranged, but there are not a lot of tourists, and those we see are Chinese.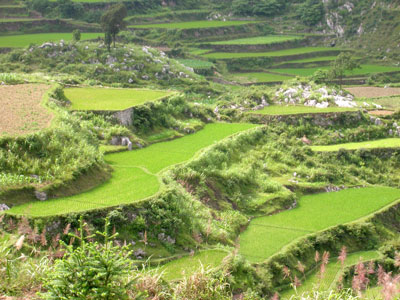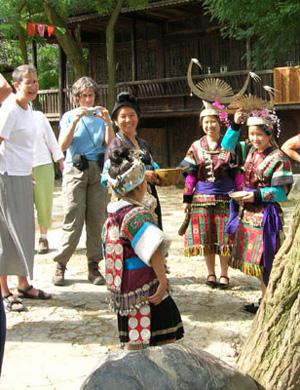 First visit: Qing Man village (short-skirt Maio). The Maio are known for their hospitality, first demonstrated by offering local 'wine' (which is actually probably around 100 proof) to visitors. Warned not to touch the bowl, or we will be expected to drink it all (problematic when offered a large drinking horn, rather than the small bowls we are usually given). It's an acquired taste but not bad, and better than many cheap Scotches I've drunk.
Next: The Power of Pop Culture
Return to China 2006 Index