Echoes of the Past: Exploring Havana
Trying to describe Havana in a few paragraphs is an impossible task. The cultural and political center, major port, and commercial heart of Cuba, with a history going back to the 16th century, the city is a collection of contradictions, and still remains alluring and fascinating to visitors. Contemporary Havana has been described as three cities in one: Old Havana (designated a UNESCO World Heritage Site in 1982), neighboring Vedado with its commercial activity and nightlife, and the newer suburban districts to the west where many private country clubs were converted to public recreational and educational centers after the 1959 revolution. However, fifteen municipalities of the city itself encompass even a wider range, from the innovative organic farming complex in Alamar to seaside Cojímar where Ernest Hemingway hung out white writing his Pulitzer Prize-winning The Old Man and the Sea to the vibrant center of Afro-Cuban religious practices in Guanabacoa.
Our headquarters in the Riviera, in addition to giving us a fantastic view of the Malecón (where waves really do crash onto the road, just like in the movies), gave us pretty easy access to the old city center, museums and restaurants, and even Plaza de la Revolución. And if we didn't feel like walking home, we had an entertaining choice of taxis, from the 1950s classic American cars (lovingly patched and painted and mostly housing Russian engine parts under the hood) to the fun and funky 3-wheeled Coco taxis, or even getting rides the Cuban way by flagging down any car going in the right direction and negotiating a fare. (In Santa Clara, Gustavo pointed out officials, identifiable by their yellow uniforms on the highways or blue ones in Havana, whose job was to help travelers on the road by stopping appropriate rides.)
Havana Vieja, founded by the Spanish in 1519 in the natural harbor of the Bay of Havana, became a stopping point for treasure-laden Spanish galleons, and afterwards a prime target for pirates and corsairs. The original baroque and neoclassic architecture has been supplemented by Art Deco and modernist masterpieces. Many of these buildings fell into ruin after leaders of the 1959 Revolution focused their rebuilding efforts on easing the plight of farmers to provide housing in the country's agricultural areas. Recent projects to restore some of the historic Old Havana structures were overturned by Hurricane Ike in 2008, as well as hampered by the general economic situation throughout the country. However, the Cuban government continues its preservation efforts, and tourism has brought over a million visitors to the city annually.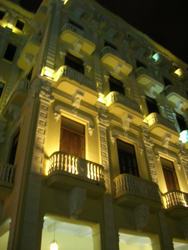 Walking around Old Havana is a delightful experience, with charming sculptures and murals, amazing architectural flourishes, street fairs, bustling cafés, and live music to be found around every corner. One of our lunches was in the Café Mercurio, in the old Stock Exchange building (Lonja del Comercio) on one side of the Plaza de San Francisco de Assisi (so named for its basilica and monastery). Tables had been set up for us inside, but it was too nice an afternoon and we were able to commandeer most of the outdoor tables. Food (shrimp!) and drinks were good, we were serenaded by the Trio Baconao who even took requests, and our waiter high-fived me (I was wearing my SF Giants visor) and showed us a photo of his ten-year-old son designed as a baseball card. Cute! After lunch I joined Donna, Gregg and Christina to explore the area, and we stumbled onto a book fair in another plaza, good for an hour of browsing pleasure. We had coffee one evening at Café El Escorial in Plaza Vieja, followed (for some of us) by cervezas across the plaza in Havana's only brew pub, Factoria Plaza Vieja. The Havana climate, even in late December, encourages lingering over dinner or drinks in one of the many outdoor cafés, then wandering aimlessly into the next plaza to explore its offerings.
Next: Visual Arts in Cuba
Return to Cuba 2012-2013 Index