Fairy Chimneys & Cotton Castles
For a new visitor to Turkey, the country's geography is surprising, to say the least. One knows the descriptions of the capital city with its seven hills and ideal location as a bridge between Europe and Asia, from sources as far back as classical Greece and Rome. But venturing west into Central Anatolia, many more geographical marvels await.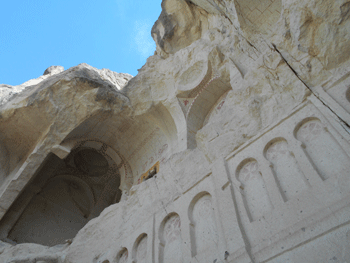 The region of Cappadocia is famous for its incredible landscape, formed through erosion of the volanic soft rock (tuff) into a fairy tale landscape of pillars, mushrooms, and chimneys, some as high as 130 feet. The Göreme valley was inhabited as early as the Hittite era (1800–1200 BCE), and its position on the boundary of rival empires found residents building hiding places by tunneling into the soft rock. During the early days of Christianity, those fleeing Roman persecution arrived and established monastic communities. Now preserved as a World Heritage site, Göreme National Park preserves several churches with their Byzantine frescoed paintings dating from this fourth century period. As well as churches, Cappadocia's troglodyte dwellings include homes still in use today, and hotels carved into the rocks to serve the tourist trade.
The scope of the Cappadocian landscape is best seen from above, and happily the area is ideal for hot air balloons, which rise at dawn and float over the rock pinnacles, dropping silently into the narrow valleys to present a close-up look. Most tourists who visit the area cite the balloon excursion as a highlight of their Turkey visit, and our group would agree. Our captain was as skilled as he was witty, and gave us an early morning panoramic tour that we definitely won't forget. Having toured the Göreme Open Air Museum the previous day, we could identify the various carved-out church structures from our aerial perspective.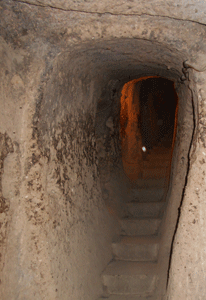 In addition to the Byzantine churches of Göreme, we also had a tour of Kaymakli Underground City, led by a local man who grew up in the village and had spent his childhood exploring the tunnels. During our subterranean walk, which was about a mile and included some narrow, low areas that required care to navigate (sometimes it's good to be short!), he explained how the city could be used in time of invasion for up to several weeks, using air and water tubes built into the labyrinth of corridors, masking cooking smoke, and blocking exits to completely hide the location of the city. Kitchens, chapels, sleeping and eating areas were all carved out, with enough room for families to have some privacy.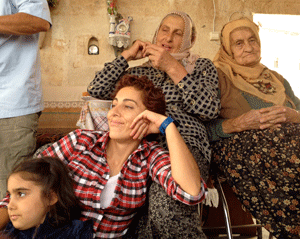 After touring Göreme, we were privileged to share lunch with Fatiyah, a local woman who talked with us about her life in the village, introduced us to her mother, daughter and granddaughter, and showed us around her home (part of which had been carved out of the rocks). Mert explained to us how he first met Fatiyah. While chatting on a street corner with another guide about how it would be great to be able to have tour groups meet with locals, she happened to overhear their conversation and offered to host lunches in her home. A charming hostess, and sharp as a tack running a successful multi-crop farming business, Fatiyah and her family made this visit a delightful treat for us as well as a highlight of our stay in Anatolia.
From the alien plains of Cappadocia we drove south to Konya, home of Rumi and site of the dervish center and mausoleum that is a major pilgrimage site for conservative Muslims. On the way we made a short stop at Sultanhan caravanserai, a classic Seljuk han built in 1228 to serve the military and trade routes. And, since we were spending one night in Konya, which is dry, we dashed across the road from the caravanserai to stock up on booze.
Across the Taurus Mountains, we found a completely different geography, rich woodlands and orchards of pomegranates and olives, sloping down to the blue Mediterranean. Before settling into the coastal lifestyle, however, we visited another anomalous geographical feature of Turkey, the travertines of Pamukkale. Tectonic movements triggered frequent earthquakes in this area, giving rise to hot springs, whose limestone deposits resulted in a cascade of snow white terraces — hence, pamukkale or "cotton castle." This extraordinary site is very popular with day-tripping tourists, who splash about the bathing area (attractive with its Roman pillar ruins decorating the bottom of the pool, except for the hordes of Eastern Europeans wearing very skimpy bathing suits). We stayed overnight in a hotel in town, which boasted (thankfully dim-lit) sex-separated thermal spas of varying temperatures.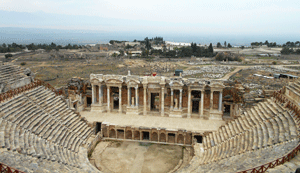 In addition to dipping our feet in the hot springs and wading in some of the travertine pools, we also explored the ruins of the ancient city of Hierapolis, built (traditionally, by Apollo, but probably dating from the 4th century BCE) above the terraces and famed for the hot springs whose vapors were associated with Pluto. Existing ruins are mostly from the Roman period, including a well-preserved theatre; the city also had a significant Jewish population. Hierapolis is mentioned in one of the letters of St. Paul, and several churches dedicated to a Saint Philip attest to an early Christian community there, as well.
Next: Turkish Delight
Return to Turkey 2014 Index