Turkish Delight
Food in Turkey...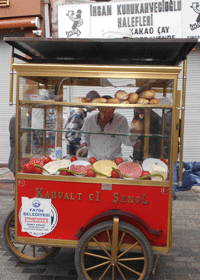 Our tour group really liked to eat, which was handy because the food in Turkey was fabulous. From simit (think Turkish pretzels) and döner kabobs street food to a parade of cold and hot mezes, the freshness and variety of local dishes should satisfy any palate. Our breakfasts usually included fresh yoghurt and bread as well as olives (OMG, these were amazing!), cheese, tomatoes, cucumbers and fruit. Lunch stops while travelling on the bus usually had extensive buffet offerings, and Mert always had excellent suggestions for any meals that were not arranged for the group. Fresh pomegranate juice was a treat, as was dondurma, the dense Turkish ice cream made with salep, a flour made from the root of the Early Purple Orchid, and mastic, a resin that imparts chewiness. Fish and other seafoods were plentiful, and we had fantastic fish dinners from Istanbul to Kuşadası.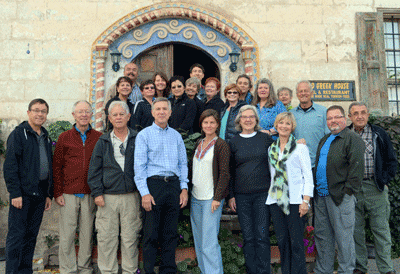 Though not served in all restaurants (especially in more conservative regions such as Konya), liquor is plentiful, and fortunately for me (I dislike licorice) it's not all raki. Efes is the most prolific beer brand, and wine-producing regions in Turkey include Central Anatolia, where we imbibed quite a few bottles, including some Boğazkere, a local varietal grape producing a full-bodied red wine. We spent several nights at the wonderful Old Greek House in the village of Mustafapaşa (formerly Sinasos) while exploring the Cappadocia region, and enjoyed several delicious meals without leaving our hotel digs, including a lively barbeque that made Susie abandon her vegetarian ways for the evening. Breakfasts in Mustafapaşa were also particularly good (and not buffet style), although the hotel restaurant layout (partly open air ceiling) required wearing several layers to meals.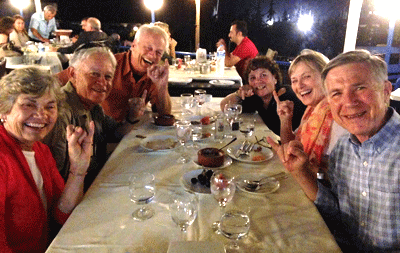 With so many delicious meals, it's difficult to choose a favorite restaurant or foodie destination, although I think we hit the jackpot with our penultimate (unofficial) group dinner at Şef Restaurant in Kuşadası, just across the street from our hotel. Sandi made the arrangements for almost the full group, and we headed over to find a long table set up on the patio. The servers just kept bringing us delicious dishes to share—including barracuda (Mert still does not believe we were served this expensive entree)—until Sandi begged them to stop. It was indeed a very festive evening to combine with the "official" group farewell dinner the next evening, following our visit to Ephesus. I think I can speak for our entire group to say that our farewells were temporary; we are looking forward to our next group dinner at the Rick Steves Reunion Weekend in January.
Next: Through Hadrian's Gate
Return to Turkey 2014 Index