Cultural Palettes
Yesterday I was clever, so I wanted to change the world. Today I am wise, so I am changing myself.
Jalāl ad-Dīn Muhammad Balkhī (Rumi)
I believe in travel as an invaluable tool for bridging cultural differences and nourishing understanding. In the words of St. Augustine, "The world is a book and he who doesn't travel only reads one page." This attitude is thoroughly espoused by Rick Steves Tours, which attracted me to them when I signed up for my first trip to Spain a few years ago, and which I think appeals to travelers who are curious and open to new perspectives. Our Turkey tour clan certainly fit this description, and we were treated to a spectrum of rich cultural experiences, from exploring artifacts of ancient civilizations to meeting with locals from many different walks of life.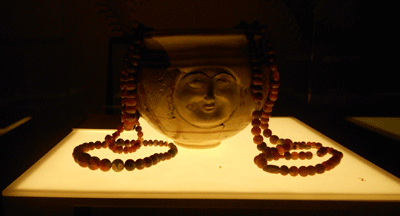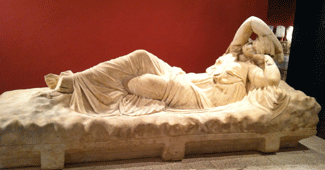 Turkey has some of the finest archeological museums in the world, filled with artifacts from the rich history of ancient civilizations. In Ankara, we visited the Anatolian Civilizations Museum, which is organized chronologically in two Ottoman buildings: the Kurşunlu Han has research rooms, a library, a conference hall, a laboratory and workshops while the Mahmut Pasha Vaulted Bazaar is used as an exhibition hall. The collection includes such important pieces as the baked-clay seated Mother Goddess figure from Çatalhöyük, one of the most important Neolithic Age sites, and the first peace treaty in world history, a tablet in Akkadian script from Egyptian Queen Nefertari (wife of Ramesses II) to Hittite Queen Puduhepa (wife of Hattusili III), dated 1275–1220 BCE and found at Boğazköy. South across the Taurus Mountains, the Antalya Museum had on display a wealth of sculptures from local excavations, particularly Perge, as well as a variety of Ottoman ethnographic specimens. Both museums are beautifully organized, often with English descriptions, and exhibits lovingly tended and accessible (where else on earth can you wander through — and touch! — a room full of orthostats with Hittite relief carvings and inscriptions?).
Ankara is also the location of Anıtkabir, the mausoleum of Mustafa Kemal Atatürk, the founder and first President of the Republic of Turkey. The impressive memorial complex features red, black, cream, tiger-patterned, white, and green marble from throughout Turkey used for floors and columns, red, white, and black travertine used for paving and sculptures, frescoes with geometric designs inspired by traditional Turkish kilim motifs, and mosaics recalling the many ages and civilizations of Anatolia: Hittite, Hellenic, Roman, Seljuk, Ottoman. A military officer during World War I and a hero at Gallipoli, Mustafa Kemal was a driving force in the Turkish National Movement and his military campaigns led to victory in the Turkish War of Independence. Under his leadership, the country embarked on a program of political, economic, and cultural reform to transform the Ottoman Empire into a modern, secular nation-state.
Mustafa Kemal's place in the history of modern Turkey cannot be overstated. Statues of him are in every town square; pictures displayed in shops and schools, on Turkish lira banknotes, and in private homes. In recent years, Turkish politics seems to be shifting away from the somewhat radical secularism of Atatürk (example: for a time women were forbidden to wear the traditional headscarf while working in the public sector) back to a more conservative, pro-Islamic stance. Turkey is currently in a delicate cultural balance, respecting the religious history of Ottoman culture and the reforms needed to bring the country into line with modern expectations of rights and equality.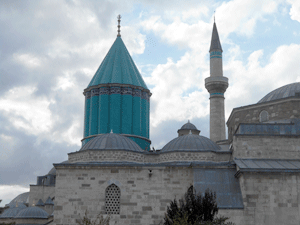 Even the streets of conservative Konya, where liquor is not served or sold, are lined with pricey boutiques displaying the most modern of fashions in their shop windows, while well-dressed professionals hurry to dinner. (We joined in, feasting in the fantastic kebab restaurant Ozel Cigerci, a favorite of Mert's.) An extremely old city, Konya is the former capital of the Selçuk Turkish Sultanate of Rum (1071–1275), and today is a pilgrimage site for the followers of Jalāl ad-Dīn Muhammad Balkhī (better known in the West as Rumi), a 13th century Persion poet, theologian, and mystic. Rumi's poetry has been translated into many of the world's languages, and forms the basis of much classical Iranian and Afghan music. The ritual dancing of the Mevlevi order — the whirling Dervishes — developed from Rumi's belief in the use of music, poetry, and dance as a path for reaching God. The Mevlâna Museum, the original lodge of the Sufi dervishes, contains Rumi's tomb and shrine in addition to a large collection of memorabilia, Selçuk objects, and displays of the rituals of daily life in the small cells used by the dervishes. The central conical dome of the mosque and mausoleum, covered with turquoise faience, makes a striking picture in the middle of a charming park surrounding the museum.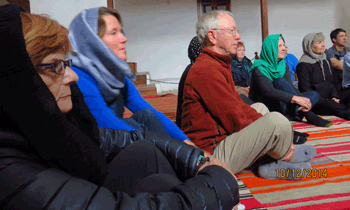 Before we reached Konya on our trip south from Cappadocia, we stopped in the village of Güzelyurt, a harmony of cultures, history, architecture, and religions. Our destination was the local mosque, Büyük Kilise Camii, where we met with the imam. Replacing the fourth century church which is thought by some to have been the birthplace of church music, specifically the Gregorian chant, this building was restored in 1896 as the Church of St. Gregory of Nazianzus and then converted to a mosque in 1924. Imam Emr Mutlu (known to tour groups as the "George Clooney" imam, for his good looks) sat with us inside the mosque, graciously and frankly answering our many questions about Islamic religion, culture, and politics. To cap our session, the Imam chanted the first lines of the Koran for us; he personally serves the village as muezzin and recites the adhān (call to prayer) five times each day. Personable and welcoming, he even posted our group photo on his Facebook page!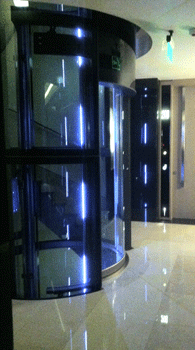 At the end of the tour, Susie and I arranged an overnight stay in Izmir before flying home from there. We chose the upscale Key Hotel, which was an excellent decision. Our room was large enough to host our entire tour group for one of our room wine parties, and we had fun playing with the high tech light and shade controls. The elevator looked suspiciously like a Star Trek transporter, although it only took us up to the restaurant for our final breakfast in Turkey. We really didn't have enough time to explore the city, an eclectic mix of the historic and modern, but we were in "relax mode" so just enjoyed strolling along the waterfront (Ataturk Street, of course) and checking out the modern Konak Pier Shopping Mall, which was underwhelming except for a nice bookstore and a chance to have a drink on the water at one of the patio restaurants. There were a few baffling street vendors, including a couple of guys with rabbits (we think it was some sort of fortune-telling process), a photographer with his own portable printer right there on the sidewalk (instant service!), and the creme de la creme, an old guy with a bathroom scale and two bottles of lighter fluid. He got really upset with a couple of kids who jumped on the scale and chased them down the sidewalk yelling imprecations in Turkish that needed no translation. Izmir's small historic center is known for the Izmir Saat Kulesi (Clock Tower) and the Yali Mosque, both located in lively Konak Square. A foray into the nearby Kemeralti Bazaar was successful in my discovery of the mythical source of evil eye amulets. We watched the sun set across the Aegean Sea, chose a water-side restaurant at random for dinner, and then packed our bags for the trip home.
Next: Fairy Chimneys & Cotton Castles
Return to Turkey 2014 Index