Cienfuegos: Jewel of the South
Cienfuegos (literal translation: "Hundred fires"), on the southern coast of Cuba about 160 miles from Havana, is a small, lovely city settled by French immigrants in 1819, boasting the largest cluster of 19th-century Neoclassical architecture in the Caribbean. In 2005, UNESCO inscribed the Urban Historic Centre of Cienfuegos on the World Heritage List. Jagua Hotel, gorgeously situated at the tip of Punta Gorda, rises over the waters of Cienfuegos Bay, with panoramic coastal vistas as well as the over-the-top Mughal architecture of the adjoining Palacio del Valle. Our 14th floor room was just two doors down from the one Fidel Castro stayed in (there's a plaque), and our balcony overlooked the hotel pool toward the historic downtown area, within walking distance for those with stamina.
The area's most famous resident is Beny Moré (Bartolomé Maximillian Moré Guitierrez), the greatest Cuban popular singer of all time. Moré, born in 1919 in Santa Isabel de las Lajas, Cienfuegos Province, had no formal musical training, but became a master of all forms of Cuban popular music — son montuno, mambo, guaracha, guajira, cha cha cha, Afro-Cuban, canción, guaguancó, and bolero. Moré settled in Mexico to record music and perform with one of the best Mexican bands at that time, Son Veracruz; he also produced around 60 records with Damaso Perez Prado Orchestra before returning to Cuba in 1953, where he remained until his death in 1963 from cirrhosis of the liver. A bronze statue of Moré, lit from below at night, graces a downtown boulevard median, and a modest museum contains artifacts and photos from his lengthy international career. At the museum, we were treated to coconut juice (spiked with rum of course) served in the shell, and watched a charming performance by a children's rumba ensemble. We also visited Moré's grave in his hometown of Lajas.
In addition to these little field trips to nearby Lajas and Palmira, we managed to drag ourselves away from the hotel pool and bayside bar to explore the lovely city center. The central square, Parque Martí, includes some of Cienfuegos' most notable architecture, such as the Teatro Tomas Terry, and of course a statue of José Martí. Inside the Cathedral de la Purisma Concepción, finished in 1869, features stained glass windows from France, remnants of poems written in Chinese characters can still be discovered on some of the pillers, and a lovely sculpture of La Virgen de la Caridad, patron saint of Cuba, appearing to the "three Juans" caught in a storm, in one of the side altars. Next to the square was a small row of artisans selling crafts, where I found my essential travel souvenir: earrings! In fact, I bought a full set of necklace, bracelet and earrings made from mother-of-pearl and ceramic (a popular style throughout Cuba) for $7CUC.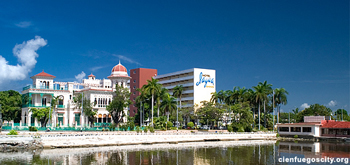 Our meals schedule in Cienfuegos had some ups and downs, but the hotel's incurring Gustavo's displeasure resulted in getting us a roasted suckling pig dinner in the Palacio del Valle. Actually dinner was supposed to be in a lovingly decorated and lit outdoor garden, but just before start time we had the only rain experienced during our trip. It poured for about 30 minutes, everything was moved indoors, and dinner was, eventually, thoroughly enjoyed by all. We also had a lovely lunch one day in the former Country Club, another architectural marvel located along the Malecón (shorter than Havana's coastal strip but just as popular with young couples on weekend evenings).
Next: Santa Clara
Return to Cuba 2012-2013 Index