Visual Arts in Cuba
On December 29th we started our day with a lecture by Omar Bellino, a professor of Theatre Arts, who spoke about the changes in cultural policies since the revolution. Previously, music had been the only important art form in Cuba, with a rich and internationally recognized heritage. However, many authors had to self-publish, and the film industry was yet undeveloped. In 1961, during a meeting with representatives from various cultural groups, Fidel Castro made a statement, "Words for Intellectuals," that impacted the arts in Cuba for the decades to come: "Inside the revolution, everything; against the revolution, nothing."
Debates on whether to accept outside influences ultimately took official policies away from the Soviet model of socialist realism, allowing Cuban artists to incorporate a wider acceptance of styles and content (not surprising considering Cuba's rich and diverse cultural heritage). From 1961-65, national arts schools were established to train teachers and professors in the cultural arts. After a tentative and bumpy start, the Bureau of Cultural Affairs was established in 1976, and in the '80s a new and exciting generation of artists started to emerge. Unfortunately, since the collapse of the Soviet Union and the critical economic support this connection provided to Cuba, demand has far outpaced supply for the development of arts throughout the country.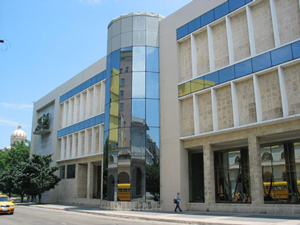 A few days later, Professor Mario Mas Vidal of ISA University of the Arts lectured the group on the cultural arts explosion in the 1980s, and we followed up with a tour of the Palacio de Bellas Artes's Cuban collection. Cuban art, a combination of African, European, and North American cultural art styles, features a combination of 20th century modernism with growing vanguardism movements such as primitivism, surrealism, and modernism. Omar, our delightfully enthusiastic guide, discoursed on seminal works by celebrated 20th century artists Wilfredo Lam, Amelia Peláez, and Eduardo Abela, as well as pieces by the leaders of the 1980s renaissance. The museum had a special centenary exhibition, Mariano: vuelo y arraigo, of the works of Mariano Rodriguez, an abstract artist internationally famous for his Gallo amarillo paintings, with 37 paintings and drawings spanning 1950-1966.
The Casa de las Americas, headquartered in a stunning Art Deco building in the Vedado district, promotes, researches, supports, awards and publishes the work of writers, sculptures, musicians, and other artists and students of literature and the arts throughout Latin America. The institution also offers programs for international students through foreign universities, including some in the US. We were guided through the diverse collection of art on display, including an impressive Mexican "Tree of Life" sculpture; even the elevator was converted into an art piece! We next visited Galería Villa Manuela, a small gallery next door to the lovely Unión Nacional de Escritores y Artistas de Cuba (UNEAC) complex, that selects artists for shows that change every few months. The current exhibition, Cartography of the Soul" by William Pérez, included thoughtful pieces combining plastic, wood, metal and digital printing.
We were also able to meet and chat with some artists in their studios or galleries. In Havana, we visited two studios in the Vedado district, one a collective and another in an artist's home. Paintings and prints were available for sale in every studio and gallery (and some museums) throughout our visit, and some of our group members (Rich and Maria, I'm talking to you!) went home with quite a collection for their walls. Contemporary Cuban art, as well as being very inexpensive to purchase, has become internationally respected; Greg told us that San Francisco venues have expressed interest in exhibiting his personal collection as the art he has been buying in Cuba for the past several decades continues to increase in value and reputation. One of the luminaries in this category is Manuel Moinelo, a Matanzas artist born in 1941 whose paintings depict elements of Afro-Cuban religious figures. We visited Moinelo in his studio home in the outskirts of Matanzas, which was jam-packed (less so when we left) with his colorful paintings and distinctive sculptures.
Not to be outdone by its northern neighbors, Cienfuegos is also an important art center. Our Jagua Hotel residence was liberally decorated with pieces from local artists represented in Galeria Mateo Torriente on the historic Plaza de Armas; we visited the gallery and met several of these talents (and, of course, bought more art). As my own studio apartment wall space is already pretty well covered, and my luggage space and art budget minimalist, I returned home with only two pieces, but I love them both very much. The original prints by upcoming young artist Marcel Molina (you can see him in the video on this page!), displayed in our hotel lobby, caught my eye, and I bought one of these, inadvertently starting a feeding frenzy amongst other members of our group. The gallery director very kindly phoned Molina's mother to ask him to come to the hotel and meet us before we left to return to Havana, and we had our photo taken together.
My other art purchase was a lithograph of a tropical scene from one of the artists working at the Sociedad Gráfica de Cienfuegos Estudio Galería, also located in the historic center center. This cooperative hosts children's classes and holds weekly sessions with Downs Syndrome patients, teaching the fundamentals of traditional engraving techniques. The workshop is self-funded through sales from the work of its students and art in the adjoining gallery featuring more work by local artists, several of whom we had already met down the street.
Next: Santeria
Return to Cuba 2012-2013 Index